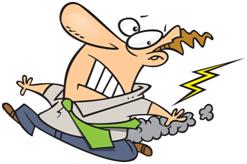 Karma, as best I understand it, is an action or deed that causes the cycle of cause and effect. My definition is simpler: You cause what happens to you.
That which happens to us is our karma. We all have things happen to us, good and bad, so depending on the day it's either good karma or bad karma. But make no mistake, we cause our karma.
There are those who believe that their job is to mete out karma. I would agree if you are the parents of young children or the executioner at a Texas prison, but much past that I don't see it as our role to decidedly dole out karma.
I can't prove this but I think hardly anyone goes to their grave without having karma meted out by some force other than another human. Yes, other humans may deliver the sentence but karma was the guiding force.
This is more than a spiritual perspective on my part. It comes down to Newton's third law of motion: "Every action is accompanied by a reaction of equal magnitude but opposite direction." I believe Newton was scientifically describing the ancient concept of Karma.
I could easily cite how karma caught up with Osama Bin Laden or O.J. Simpson, but it's not as tidily explained when we see others get away with actions against humanity, like financial magnates who knowingly sold you something they knew was worthless and going to fail, and helped cause our country's financial collapse. We may view them as escaping karma and living "high on the hog" while many are struggling financially as a result of their actions to "bring home the bacon."
I wish I could say with absolute certainty that karma will catch up with them. I can't. But I believe motion will.
This is a long way of saying I don't believe it's my job to mete out their punishment, because I've lived long enough to see enough personal, karmic evidence come my way that insures I won't get away with something without an equal reaction showing up on my doorstep.
I think it's totally appropriate to call attention to the misdeeds of others, but meting out their punishment is not my job; I believe karma already has them in the pipeline.
You can easily discard the notion of karma as spiritual nonsense, but it's not as easy to deny the laws of motion. I believe they are one and the same. When I don't think karma will happen to me, I remember the quote of that famous bus driver, Ralph Kramden who said, "You'll get yours."
All the best,
John
ACCOMPLISH ANYTHING
LOSE WEIGHT & KEEP IT OFF
STOP SMOKING FOREVER
SLEEP THROUGH THE NIGHT EVERY NIGHT
IMPROVE YOUR SELF CONFIDENCE
I LOVE MY BODY
RELAX IN 2 MINUTES
FEEL FOREVER YOUNG
VIRTUAL MASSAGE
Be Sociable, Share!