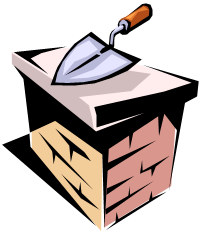 One of the older homes on our block is undergoing a facelift. They're having an addition built on and all of the old siding has been removed from the old part of the house. The roof has been re-shingled, new windows installed and new siding has been applied. They've done a wonderful job, with one exception – the chimney.
It's a brick chimney that's been in place over 30 years. Being the son of a bricklayer, I couldn't help but notice that the chimney was in need of acid washing so as to match the new look of the house.
The problem for me is I've noticed it every day for the last 10 days and had the same conversation with myself. "If you're going to spend all that money and have your house remodeled, why would you neglect a simple thing like acid washing the chimney to remove old stains and add new luster? Doesn't the contractor see that? I'll bet the homeowners never even thought to ask."
That's a perfect inquiry – once, maybe twice, but 10 days in a row?
Finally, yesterday, it hit me like a ton of bricks. No one is benefiting by my observation – not the builder, not the homeowner, and especially not me.
I already knew what I knew. Reinforcing it 9 additional times didn't increase my knowledge or have any effect on the outcome.
A repeated thought without action remains a stuck thought. It takes up our mental real estate blocking any new thought from coming in.
By noticing a repeated thought in action, like I did yesterday, it opens a door to let the thought escape and makes room for some new thoughts – thoughts that have action plans attached. My observation of my stuck thought presented me with three action options:
Suggest it to the contractor.
Suggest it to the homeowner.
Mind my own business.
The stimulus (the stained chimney) only gave me one thought – to be a know-it-all neighbor without an action plan.
By observing my repeated thought, I received new options that had actions attached.
What repeated thought is taking up space in your head that's benefitting no one? Take time to notice it the next time it comes around. Just by observing the thought, rather than participating in it, again, you receive an action plan.
Thoughts don't create anything without some behavior attached. The surefire way to keep your behavior stuck in cement, is to let the same thought go on and on without observation.
Your repeated thought may be right, but right has never washed a chimney.
All the best,
John
HOW HEALTHY CAN YOU BE?
LOSE WEIGHT & KEEP IT OFF
STOP SMOKING FOREVER
SLEEP THROUGH THE NIGHT EVERY NIGHT
IMPROVE YOUR SELF CONFIDENCE
RELAX IN 2 MINUTES
VIRTUAL MASSAGE
Be Sociable, Share!
Comments Off

on Chimney Sweep