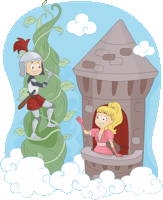 The Grasshopper nuzzled up close yesterday after I responded to an email from one of my coaching clients and said this: "Life is a contact sport."
I encouraged this client, along with many others over the years, to make more contact with human beings. It's in others that we find out the most about ourselves. They reflect back parts of us that we don't know we have or believe we have, productive parts and not so productive parts.
Making connections with others will not only reveal more of yourself to you, it will also show you the multiplying effect of connection.
You get the things you want in life from other people. You can sit in your easy chair and daydream about your desires but it's going to take connection with others to make them happen.
Connections are the magic beans that are available to us at all times. What happens to magic beans when they don't get planted? They sit on the shelf and dry up, just like we do when we don't get our hands dirty and put them in fertile soil.
Other people are the fertile soil we need to make our desires grow to fruition. You can sit and play Solitaire day after day cheating yourself out of all the rewards that Monopoly has to offer.
Yes, there is risk in playing with others, but if you choose to pass up the chance and go it alone, your reward is a life filled with unfulfilled dreams and disconnection.
Making contact with people is only the beginning. After we make contact, we have to make requests. It's no different than the first dance you went to. You may meet other people at the event but if you want to dance and don't ask someone else, the only contact you'll make is when your fanny hits the chair you'll be sitting in all night.
The world is your oyster unless you clam up and dig yourself into the sand.
Your mission, if you choose to accept it, is to make contact with others and make requests. It's a magic formula, but it's only magical if you use it.
All the best,
John
VIRTUAL MASSAGE
Be Sociable, Share!