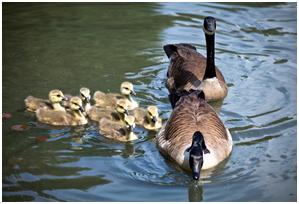 One of the definitions for the word "Sophisticated" is "Complicated," as in we've made something simple, complicated.
We've added layers of sophistication or complication to our lives that make it difficult for us to get back to true north.
Over the holiday weekend, I went to a beautiful, local park with the express purpose of taking some photographs. I got more than some great pictures; I got a glimpse back at uncomplicated life.
There were scores of people having family gatherings and picnics in the park. Kids were flying kites, throwing frisbees and playing tag. The adults were laughing and telling stories and bringing out home prepared food for everyone to eat. It was totally unsophisticated and wonderful to watch.
Then yesterday, I got to watch uncomplicated life play out again. I got to spend some time with my three granddaughters at a barbeque at my son's house. They were living life to its fullest on this very hot day – They were running through the sprinkler. It reminded me of being a kid when it was hot in the city. Someone would open up a fire hydrant and we would all run through the splashing water – Heaven on earth.
These two slices of life just served to remind me how far our sophistication has taken us away from the simple enjoyment of life.
How often have we said, "When I have this, I'll be happy"? Happiness doesn't require a "This." That's the complicated side of sophistication rearing its ugly head. We've convinced ourselves that we need more than we are to enjoy life. It's just not the case – never has been and never will be.
When our goal is sophistication, our lives get complicated because we are chasing that which can't complete us. The piece we miss in the chase is that we are already complete, already enough.
This is not an argument against the finer things in life; it's more of a focus on the lost focus of life's simpler things.
Money couldn't buy what I experienced over the holiday weekend. You may argue that life is more complicated than a walk in the park, but, from my perspective, not much more.
All the best,
John
ACCOMPLISH ANYTHING
LOSE WEIGHT & KEEP IT OFF
STOP SMOKING FOREVER
SLEEP THROUGH THE NIGHT EVERY NIGHT
IMPROVE YOUR SELF CONFIDENCE
I LOVE MY BODY
RELAX IN 2 MINUTES
FEEL FOREVER YOUNG
VIRTUAL MASSAGE
Be Sociable, Share!
Comments Off

on Sophisticated