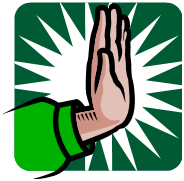 Which one is easier to do – include or exclude?
My sense is excluding is easier than breathing, yet including ultimately feels so much better.
It's so easy to keep others on the perimeter if we view them from our perch of perceived perfection or island of isolation. This forms the basis for exclusion – they either don't measure up to us or fit in with our closed way of doing things. This perspective has us miss a lot.
Including takes a bit of sacrifice. Reminds me of a story . . .
Years ago we had an impromptu, uninvited guest show up right around dinner time. I learned a lesson of inclusion that night. My initial reaction was, "not them, not now." Luckily for me, my wife had a different idea. She introduced me to an idea her mother instilled in all of her children. She called it "Family hold back."
The idea was simple. If each family member took a lesser portion, there would be enough for everyone and the guest would feel welcome, included.
My perspective that night went from intrusion to inclusion. I wasn't a bad or a stingy person before that evening, I just had my accent on protectionism, exclusion.
What you sacrifice when you include is your concept of "separate and apart." It's a sacrifice because it goes against our conditioning to exclude and protect.
What we're protecting is an image of the way things are supposed to be rather than how they actually are.
Inclusion is a reality based strategy. Exclusion is a strategy to protect the illusion of separate and apart.
Inclusion opens us to the concept of diversity. Exclusion keeps us right, and left out.
This is not an argument against doing things in a preferred way; it's more of a wake-up call to recognize that way isn't the only way. It's in that moment of recognition that we discover that what we are protecting and defending is a way of life that doesn't allow for procreation. That means we can't grow.
"Separate and apart" is the basis of all conflict. Inclusion, as my friend, Jerry Stocking says, is love.
It's hard to exclude someone who's the same as you. That's everyone. They may look different and have different conditioning and ideas, but make no mistake – that's you in someone else's skin.
Just begin to notice your pattern to exclude. Each time you notice, you weaken its hold on you and open yourself up to the inclusive view that everybody is you.
All the best,
John
LOSE WEIGHT & KEEP IT OFF
STOP SMOKING FOREVER
SLEEP THROUGH THE NIGHT EVERY NIGHT
IMPROVE YOUR SELF CONFIDENCE
RELAX IN 2 MINUTES
FEEL FOREVER YOUNG
VIRTUAL MASSAGE
Be Sociable, Share!
Comments Off

on Include – Exclude