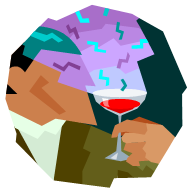 Got a quick visit from The Grasshopper this morning and he dropped this in my lap: "Superiority is a belief, not a condition."
No one is superior to another except in their mind.
You may have a superior intellect or superior skills when comparing yourself to others. You may even be paid to be someone's superior, but you are not superior to them.
The belief of superiority is a drug – one that keeps you looking down your nose and smelling something bad.
Superiority boils down to this – NOT LIKE ME.
Investigate that for a moment . . . how could anyone be like you? You are unique. The corollary is true, so are they, not inferior or superior.
Reminds me of a story . . .
Years ago I was attending a seminar where I got into a philosophical "dust-up" with another person attending the seminar. I truly believed I had the superior position and, in fact, thought I was better than this person. What added to my illusion of superiority was the fact that this person was a lousy debater and I had them boxed into corner after corner, revealing their stupidity and my superior skills.
After the person left in a huff, I was reminded of a similar situation I was involved with many years before. I was doing a radio talk show and was debating a forgettable issue with an older woman who was clearly not in command of the facts. I, again, boxed her into corner after corner and easily won the argument. I was feeling quite superior until . . . I listened to a tape of the broadcast on my way home. I heard the exchange, not as a participant, but as a third party. I remember saying aloud, "You just beat up on an old woman."
So back to the seminar . . . the person came back to read me the riot act about my behavior and in this exchange, I stopped debating and started listening. When I dropped my superiority, I discovered something that has stuck with me ever since – "If I grew up in your house when you did, I'd be just like you." The opposite is also quite on point.
The discovery of the uniqueness we all develop helped me recognize that I wasn't superior, just different.
I wish I could tell you that I've completely outgrown my notion of superiority; I can only say it's a work in progress.
The key for me is to notice that I'm displaying my belief of superiority and interrupt it before it has me win another battle and lose the war.
Every time I notice and interrupt, I have a much more productive exchange of ideas and a greater appreciation of the uniqueness we all develop.
This much I can tell you from experience: Sitting on your high horse makes you a sitting duck.
All the best,
John
LOSE WEIGHT & KEEP IT OFF
STOP SMOKING FOREVER
SLEEP THROUGH THE NIGHT EVERY NIGHT
IMPROVE YOUR SELF CONFIDENCE
RELAX IN 2 MINUTES
FEEL FOREVER YOUNG
VIRTUAL MASSAGE
Be Sociable, Share!
Comments Off

on Superiority