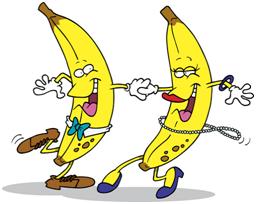 Did you ever notice that the people who can really dance aren't working at it; they're just dancing.
I've never been a great dancer, figuratively or literally.
On the actual dancing side, I've always had to work too hard at it – no rhythm. When you have to think about your moves, you aren't dancing, you're thinking.
On the dancing around the issues side, I've always found it to be a waste of time. Reminds me of a story . . .
Back in my broadcast daze, I had a meeting with the president of our company. I was there to pitch him on a new morning show I wanted to put in place on our station. After the preliminary handshake and pleasantries, I said, "I can present this in two ways: I can lay out the groundwork and then make the proposal, or I can bite right in." He said, "Bite right in." The enjoyable meeting lasted less than 10 minutes and I got what I came for, and I didn't have to dance around.
Great communication is like great dancing; when you're into the dance, you don't know if you're leading or following.
When you are working all the angles, you are not communicating, you're thinking. That always produces a disjointed dance.
When you are in rapport with someone, the dance takes on a life of its own and you both are passengers on a pleasant ride.
I believe the main goal when meeting with someone is to gain rapport, not displaying prefabricated, robotic dance steps.
I am not a fan of sales training. It's not that there's not valuable information in there, there is. It's the application of that training in a step-by-step fashion that shows me you can't dance. You're working at it. You look like the choreographed couple who just took a dance class so they could look presentable on the dance floor at the company Christmas party.
Gaining rapport begins with leaving your agenda at the door. When you truly have communication as your goal, a pleasant dance will ensue and the chance for a mutually beneficial outcome increases.
When the dance steps are obvious, you stick out like a sore toe that's been stepped on too many times. When the steps become invisible, you are in rapport and are truly dancing.
I think Arthur Murray should offer a new class – Learning Rapport on the Dance Floor.
All the best,
John
LOSE WEIGHT & KEEP IT OFF
STOP SMOKING FOREVER
SLEEP THROUGH THE NIGHT EVERY NIGHT
IMPROVE YOUR SELF CONFIDENCE
I LOVE MY BODY
RELAX IN 2 MINUTES
FEEL FOREVER YOUNG
VIRTUAL MASSAGE
Be Sociable, Share!
Comments Off

on Dance Steps