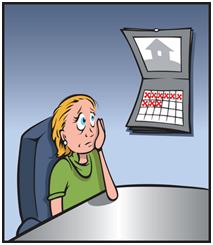 Some dates are more memorable than others. For example: For me, the year 1066 always reminds me of the Battle of Hastings. Who knows why some innocuous dates stick and others don't?
Some dates are more personal than the Battle of Hastings – birthdays, anniversaries, milestones, etc.
It's hard not to feel pain from any remembered dates that weren't so glorious – 9/11/2001, 11/22/1963, (fill in your own).
We all have potential, painful memories that pop up on the calendar each year. The question becomes: "What do we do with that pain?"
We can attempt to chase it away. That never works.
We are tempted to talk about it for the hundredth time. That only keeps the pain around longer.
What we rarely do is take time to feel the pain.
Caution: This is not an invitation to go over details of the remembered date. That will always exacerbate the pain.
The key is to feel the pain in your body. Find out where it lives in your body, not your head, and give that affected body part your full attention. That's feeling the pain.
It's a cleansing process that works if you work at it.
What I've found is that the date will always trigger the memory, but the memory will trigger little or none of the pain it has in the past, after you take the time to fully feel the pain.
It seems counter-intuitive to purposely feel pain, until you do it. Then you'll own the experience of being able to metabolize a painful memory, so it's just a memorable date on the calendar.
All the best,
John
LOSE WEIGHT & KEEP IT OFF
STOP SMOKING FOREVER
SLEEP THROUGH THE NIGHT EVERY NIGHT
IMPROVE YOUR SELF CONFIDENCE
I LOVE MY BODY
RELAX IN 2 MINUTES
FEEL FOREVER YOUNG
VIRTUAL MASSAGE
Be Sociable, Share!