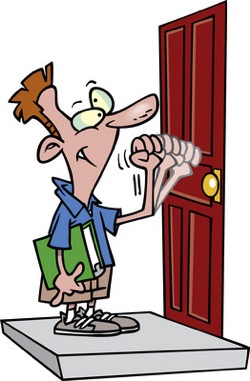 I remember when I discharged from the U.S. Navy. I was looking for a job in radio broadcasting. I moved back home and was sending out some audition tapes to radio stations.
My mother asked me how the job search was going and I told her not so well. She said, "You have to go out on the road and knock on doors and get in front of people to make your case."
The next day I started a pilgrimage down the east coast and visited every radio station that would let me in the door. I remember being in Annapolis, MD on St. Patrick's Day and all the bars along the strip were serving green beer. I visited a radio station there and got some valuable input from the program director. At each station I visited, I got to experience broadcasting being approached from a different angle – something I could never have garnered from just sending out tapes.
That trip did not turn into a job, but it turned into an experience.
My guess is whomever said there was no substitute for experience came from a position of experience. You'll never think your way to an experience; you have to physically own it to benefit from it.
Doing outdoes thinking every time and it builds experience. Experience makes life a lot easier.
The challenge for us is this: Gain as much experience as we can in multiple areas of our lives. That means to stretch ourselves. This doing will broaden you and give you more confidence than you could ever experience by staying stationary.
Experience is the byproduct of doing. When you choose to be a doer, you build confidence and are able to answer with a resounding "YES" the question singer Jimi Hendrix posed decades ago: Are you experienced?
All the best,
John
Be Sociable, Share!
Comments Off

on Experience