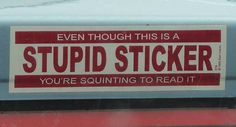 I came across an old Grasshopper quote that I feel the urge to re-quote: "YOU lives between the words, not in them."
We all struggle describing ourselves with labels (words). They never seem adequate, simply because they're not.
The "you" we attempt to describe is someone we call "me." That boils down to a collection of our history with countless stories from that timeline to support who we claim to be.
We are not our history or our stories. We are the pause between explanation.
I often think of the old advertising line from Coca-Cola when making this case: "The pause that refreshes."
It's refreshing to find out we are not our history or our stories about it. There is freedom in that pause: freedom from being locked in by our labels.
Spring is not far off and that means that spring cleaning can't be far behind. You may want to get a head start on the change of seasons by beginning the de-labeling process now.
Start peeling off any label that follows the phrase "I am." "I am a parent, christian, atheist, speaker of truth, lover, homemaker, provider, butcher, baker, candlestick maker or AARP member."
As the labels start to disappear, you begin to see the space between the labels: the You between the words.
You cannot be described by a label, only limited by one.
So, start letting the labels go and watch the unlabeled You begin to show. It's quite the discovery.
All the best,
John
Be Sociable, Share!
Comments Off

on Describing Yourself