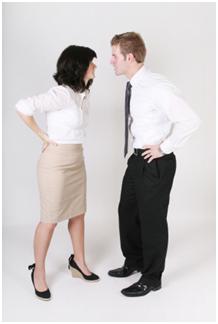 The strategy of the everyday convincer is like the opening line of a Beatles song, "Try and see it my way."
That rarely works but is the most often used strategy.
The person who has the best chance of convincing is the person with the most flexibility. Using this gift, which is available to everyone, they have the foresight to step into your shoes and view the situation from your angle.
They give themselves the benefit of a panoramic view which offers many entry points, rather than one.
We all have positions that we take on something and we know how immobile we can be. Someone who takes us on directly engages our polarity and gets our fur up. We do the same to them when our only position is: "Try and see it my way."
About 25 years ago, I learned a technique from Tony Robbins called The Agreement Frame. He asks you and another to debate a hot topic and to take one position. You go back and forth for a few minutes and then you switch sides. That means you argue the other side of the debate. You have to do this without the aid of the word "But" or any of its second cousins like, "However."
It's a pretty powerful exercise. Not only does it teach you flexibility, but the secret benefit is that you gain appreciation for the other side of the issue, simply because you adopted it as your own for just a few minutes.
One of life's hardest truths to swallow is that there is another way besides yours. Like any major undertaking, it is best to break it down into bite sized chunks because, as I'm fond of saying, "You can't eat a whole cow at once."
Start with something that you are mildly married to. (Think of it as an arranged wedding). Now explore the counter position and create a narrative for it. Convince yourself that this is the only way it can be. Then go back to your regular position and convince yourself that it's the only way to go. Keep going back and forth until you can boil down each argument into a trigger word or picture.
This is an exercise that Jerry Stocking offers to help people make decisions without having to consciously make them. After doing the back and forth to the point where you can switch sides in the blink of an eye, you find the magic of the exercise – the decision makes you. It may happen a day, week or month later, but your decision is totally congruent with no afterthoughts. You have convinced yourself.
So before you can convince anyone of anything, you have to convince yourself. That means that you have to employ flexibility and discover different arcs on the 360 degree circle of controversy and adopt them as your own.
Doing so gives you a fuller appreciation of the topic and, even more rewarding, more appreciation for another and their point of view.
Make it a point to convince yourself because the person with the most flexibility garners the most rewards.
All the best,
John
HOW HEALTHY CAN YOU BE?
LOSE WEIGHT & KEEP IT OFF
STOP SMOKING FOREVER
SLEEP THROUGH THE NIGHT EVERY NIGHT
IMPROVE YOUR SELF CONFIDENCE
RELAX IN 2 MINUTES
VIRTUAL MASSAGE
Be Sociable, Share!
Comments Off

on Convince Yourself