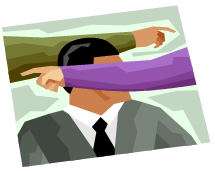 One of the basic tenets of comedy is incongruity. That means the story line goes one way and then all of a sudden it shifts completely in the opposite direction. The punch line is incongruous to the story line and the resultant collision produces comedy.
Incongruity also produces sparks. When someone displays a behavior that goes 180 degrees opposite to their baseline behavior, something is colliding. Reminds me of a story . . .
I used to work with a sales manager who, for lack of a more detailed description, was a regular guy. He was a family man who coached little league and attended church on a fairly regular basis. His stories were about his kids, sports, TV shows that everybody watched, and you could set your watch by the schedule he kept – in early, last to leave. He was pretty congruent.
Then I noticed something different. This clean cut man in his late 30's began growing a beard. When people asked about it, he said something like, "I like to grow one in the winter months." I had worked with him for 3 years and didn't notice any additional facial hair the previous two winters. This was incongruous.
I suspected something was up with this man and mentioned it to the general manager. He dismissed my observation until a week later when this now clean shaven man tendered his resignation to take a position elsewhere.
It's my experience that incongruity indicates turmoil.
It's easier to spot in someone else than it is in yourself but the pattern is the same.
Incongruity = Unrest.
The incongruity shows up before any awareness of it. It's a leading indicator that something is brewing below decks.
Ask any observant hairdresser you know. They can predict that a regular customer is planning an affair/separation/divorce well before the person knows themselves. They act surprised when they officially hear the news, but part of them recognized the incongruent unrest well in advance.
Has part of your behavior shifted dramatically recently? It's a sign.
If you don't pay attention to the incongruity, it and its attendant unrest will stay with you much longer.
When you notice your own incongruity, you bring what's hidden to the surface where it's much easier to inspect. This inspection leads to a much quicker resolution and shortens the internal storm.
When you shine the light of awareness on the behavior, you begin the metabolization of unrest and resolve your conflict sooner.
It's in your best interest to become aware of incongruity because sometimes it's not a laughing matter.
All the best,
John
HOW HEALTHY CAN YOU BE?
LOSE WEIGHT & KEEP IT OFF
STOP SMOKING FOREVER
SLEEP THROUGH THE NIGHT EVERY NIGHT
IMPROVE YOUR SELF CONFIDENCE
RELAX IN 2 MINUTES
VIRTUAL MASSAGE
Be Sociable, Share!