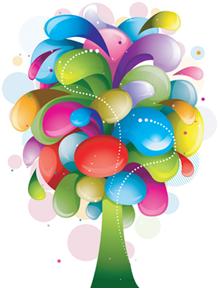 What makes you, you?
If we're all animated by the same exact life force, what makes us different?
We can point to a lot of surface things like the way we look and behave, but that doesn't totally explain the one, unique thing that makes us individually different.
The Grasshopper answered my query when he said, "The light that shines from you is a particular hue."
That color of light is what makes you, you.
The life/light force that animates us is the same, but it's as though it's shone through an individual prism that displays our internal light differently on the surface.
This light is deeper than personality. Personality, temperament, attitudes are all surface qualities. This light comes from a deeper place and it's refracted differently through each one of us.
When we miss someone who goes out of our life, what are we truly missing? We miss their light – their unique hue that will never be replicated again.
The best of you is the light that shines through. It's uniquely you, and no one who comes before or after you will display the same hue.
If you want to celebrate something, celebrate your hue. No one else can display it like you.
But before you get a broken arm patting yourself on the back, remember that you had nothing to do with this particular hue shining through. It was a gift given to only you.
The only way we occlude that light is by crowding it out with all sorts of surface modifiers. This blockage is usually the result of us attempting to be someone who we are not.
We are not our personality, our prejudices, our beliefs or our thinking. We are our light.
Recognize the light in you and others and make every effort to experience their hue. It will get you past the surface, and their depth will be in full view.
When you look for the light in everyone around you, what you will see is what the famed Psychiatrist/Hypnotherapist, Dr. Milton Erickson discovered – that every blade of grass is a different shade of green.
All the best,
John
ACCOMPLISH ANYTHING
LOSE WEIGHT & KEEP IT OFF
STOP SMOKING FOREVER
SLEEP THROUGH THE NIGHT EVERY NIGHT
IMPROVE YOUR SELF CONFIDENCE
I LOVE MY BODY
RELAX IN 2 MINUTES
FEEL FOREVER YOUNG
VIRTUAL MASSAGE
Be Sociable, Share!
Comments Off

on Your Particular Hue