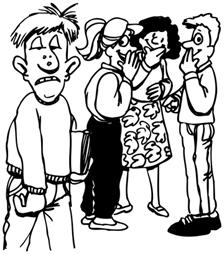 The Grasshopper was up early this morning and had this to say: "You won't succeed if you're unwilling to fail."
It seems life is a risky business where most of us are unwilling to take necessary risks.
Risk lives on a continuum between Evel Knievil and Shrinking Violet, and with all those choices we seem to hang out at Caspar Milquetoast's house.
I'll admit risk taking was easier when I was younger, but with each passing year I get filled with more failure to fear.
That's why we don't risk; we are afraid of fear.
"Please God let me feel anything but fear."
We're born with fear; we'll die with fear, yet we do rain dances to avoid something that's with us as often as our thoughts.
Fear is a feeling we would be better served to embrace more often. It follows us around like a shadow so it only makes sense to stop and share a cool drink together.
Unwilling to fail is unwilling to fear. The success rate of that strategy is a failure.
I can't tell you what I'm about to say next is true, but it sure feels that way.
It seems that the thing we fear most is not the thing we ascribe our fear to, but to the ridicule we envision encountering should we fail.
Ridicule is a fear worse than death.
So let's play this out. We're unwilling to risk because we're unwilling to fail because we don't want to feel the fear of what other people may think.
Here's the hidden piece we don't see: What people think of you will be the same whether you succeed or fail. Their mind was made up a long time ago, so avoiding something to escape their ridicule won't change what they already think.
As my teacher, Dr. Dave Dobson used to say, "The ripe fruit is on the skinny branches."
The only question left is: Are you willing to risk the fear of ridicule to get the luscious fruit?
And before you answer, consider this: The person whose ridicule you fear probably has you typecast as a rotten apple already.
Happy picking!
All the best,
John
ACCOMPLISH ANYTHING
LOSE WEIGHT & KEEP IT OFF
STOP SMOKING FOREVER
SLEEP THROUGH THE NIGHT EVERY NIGHT
IMPROVE YOUR SELF CONFIDENCE
I LOVE MY BODY
RELAX IN 2 MINUTES
FEEL FOREVER YOUNG
VIRTUAL MASSAGE
Be Sociable, Share!
Comments Off

on Unwilling to Fear