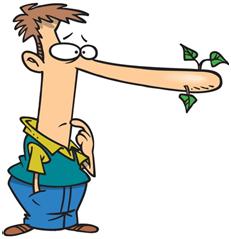 Repeat after me: "I am Charlie Sheen."
Maybe we don't have all his predilections, his money or his braggadocios nature, but we do have one major hallucination in common – We think that who we are is the person that we made up and got comfortable with.
It's the biggest lie in our bag of tricks.
The narcissistic nonsense that Charlie Sheen and Muammar Gaddafi are spewing may be exacerbated by brain malfunctions or mood altering substances, but their comments stem from who they think they are.
They believe they are their names, rank, social status, and the ranting thoughts that run through their heads and pour out of their mouths. It's what they have come to believe and have gotten comfortable with. It's nowhere near the truth.
It's easy to make these two the poster boys for the pandemic that affects us all because their behavior is so over the top.
We may be flying under the radar but our core malfunction is the same as theirs – We believe we are who we think we are.
We are so much deeper than our thoughts.
We are in possession of a deep well but choose to drink the stagnant water that has collected at the surface.
The only way I know to get to this deeper place is to get our surface self to quiet down.
The more often you calm this noisy part of you, the closer you get to your core.
Your core has no beliefs, no sense of self, just a sea of tranquility that bathes you in serenity.
After several baths in this solution of stillness, you begin to wash away the layers of lies that you have built over the years – lies that you have named as you.
You are not who you think you are, even though you may have a social security card to prove it.
The more we buy into the lie, the harder it is to get past the surface.
Just try this on for size: "I am deeper than the lie that I made up and got comfortable with."
Once you own this realization, you'll never again feel the need to impress anyone with who you are, because you allowed the biggest lie to die.
All the best,
John
LOSE WEIGHT & KEEP IT OFF
STOP SMOKING FOREVER
SLEEP THROUGH THE NIGHT EVERY NIGHT
IMPROVE YOUR SELF CONFIDENCE
I LOVE MY BODY
RELAX IN 2 MINUTES
FEEL FOREVER YOUNG
VIRTUAL MASSAGE
Be Sociable, Share!
Comments Off

on The Biggest Lie