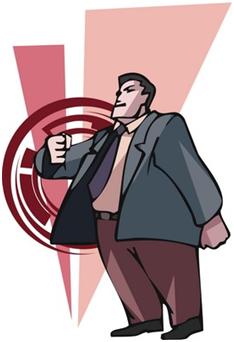 I got an interesting piece of wisdom from The Grasshopper this morning. He said, "Politics gets in the way of getting things done."
I have to admit that in the last 3 years I have become more politically savvy than I've ever been. Call me a late bloomer.
What I've noticed is that there is a political game going on 24/7 that runs on a parallel track to governing. Maybe that's not news to you, but it was for me.
The business of politics is to stay in politics, and if some governing gets done along the way, it's a happy accident.
I think there is a change coming to politics as we know it. It's the same dynamic we are witnessing play out in far off lands like Egypt, Libya, Yemen, Iran, China and countries we've never heard of.
Our political leaders are beginning to resemble the dictators that foreign countries are deposing.
The way we have been doing things is not working for the people, and the people are catching on.
Our leaders are putting out the same messaging that foreign leaders were putting out before they were run out of town.
Our leaders keep talking about ideology which prevents the action that people want.
People, the world over, want food on their table, shelter from the elements, and health and prosperity for their family. They have little concern for ideology. Those basic desires are coming more to the fore in our country than ever before.
The revolution that occupies the TV screens in America may seem as though it's coming from somewhere else, but there is one brewing here that may not be as clear.
The fatherly political figure is becoming a relic right before our eyes. It seems, like in the foreign lands, we're tired of tired rhetoric from tiring politicians.
Our last election was less about Democrats and Republicans and more about getting rid of tired blood. The next one will be more of the same. The pols that stick to their guns will be run out of town on a rail.
The wool pulling days are coming to an end. People are recognizing the wolves dressed up as sheep. They are less interested in what you bleat and repeat and more interested in continuing to eat.
If you just ascribed what I said to the party you don't vote for, you missed the point. It's everywhere.
Politics as we know it is coming to an end. My sense is those who survive politically will concentrate on doing rather than talking. The successful candidates will be less concerned with a point of view and more focused on what's important to you. It hasn't been that way in a very long time.
All the best,
John
LOSE WEIGHT & KEEP IT OFF
STOP SMOKING FOREVER
SLEEP THROUGH THE NIGHT EVERY NIGHT
IMPROVE YOUR SELF CONFIDENCE
I LOVE MY BODY
RELAX IN 2 MINUTES
FEEL FOREVER YOUNG
VIRTUAL MASSAGE
Be Sociable, Share!
Comments Off

on Politically Savvy