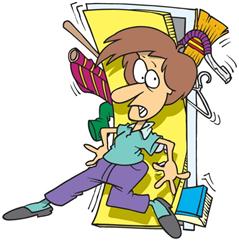 The Grasshopper was showing his relevance this morning when he said, "What you believe is irrelevant to reality."
Which of the following statements do you believe?
Nuclear power is safe.
Nuclear power is unsafe.
Your belief is irrelevant to what's happening in Japan. That's a reality impervious to your belief about it.
Your beliefs may turn out to be accurate on a particular topic, but their track record is paltry in matching up with reality with any regularity.
It's an amazing feat to witness when we find ourselves defending our beliefs when there is an avalanche of evidence they aren't working.
What is it that you believe that isn't working for you?
Just look at what you profess that hasn't born any fruit. Did you add the word "Yet" to that last sentence? You can believe it until the cows come home but the reality is you "Don't Got Milk."
Beliefs aren't going away, so it's in our best interest to manage them.
Just like with kitchen junk drawers, you have to clean them out from time to time. That takes some decision making and action on our part. It's a two step process.
1. Recognize what beliefs just aren't working for you.
2. Get rid of them.
Believe it or not, Step 1 is the harder of the two.
Recognizing what you believe isn't working meets with lots of resistance. Denial is the main adversary you will encounter when assessing a belief for the trash heap. Your beliefs will kick and scream to remain relevant. It's not that their argument is persuasive; it's just non-stop. They will wear you down more often than they will convince you.
It's the reason we don't clean the overcrowded attic, basement, closet or crawl space. The fun house mirror logic goes like this: "You may need that lei your parents brought back from Hawaii in case you ever have a luau party." The resistance keeps inertia in place. Your beliefs count on that.
It's a hard admission to make that our beliefs are irrelevant, but look at the evidence.
Once you have full recognition of a belief that's not working, it's much easier to outgrow it because Step two automatically activates when your beliefs are seen in the light of day.
Reality doesn't care what you believe because your beliefs have no bearing on what it offers up.
If you'd like to get better at recognizing reality, give up your belief that you know what's going to happen next – then you'll find out what really happens. Now that's something you can believe in.
All the best,
John
ACCOMPLISH ANYTHING
LOSE WEIGHT & KEEP IT OFF
STOP SMOKING FOREVER
SLEEP THROUGH THE NIGHT EVERY NIGHT
IMPROVE YOUR SELF CONFIDENCE
I LOVE MY BODY
RELAX IN 2 MINUTES
FEEL FOREVER YOUNG
VIRTUAL MASSAGE
Be Sociable, Share!
Comments Off

on Irrelevant