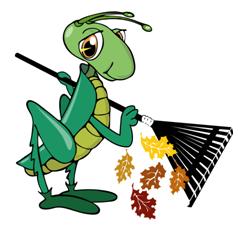 What's the best time to begin that Fall clean-up project?
NOW!
In fact, now is the only time you can begin anything.
Now is always a chance for a new beginning.
Action only happens now. Behavior only happens now. They can only be accomplished in the moment you're in.
You can reminisce about actions you've taken or daydream about actions you will take, but the physical action itself can only begin in the moment you are in.
Action is synonymous with now.
The steps you take now will help you walk away from the missteps you took then. The action you take now is the only way to create a different future.
Now is life's crossroads, its choice point.
Seeing as it's always now, that means that every moment you are in is an opportunity to choose.
Planning is a wonderful tool to use, but too many of us use it as an excuse not to take action now.
Now is the only place you can physically be. Your body lives in the here and now. Your body is the part of you that takes action.
Your mind tries to live in a time that doesn't exist – either past or future. Since your body physically can't go along for the mental excursion, no action can take place.
You always are where your body is, and where your body is, is the only place where action happens. That place is now.
"What's the best time to begin that Fall clean-up project?" Most answer that question with a mental musing rather than with an action. They once again ignore their freedom to choose and wind up with a future that looks like yesterday's news.
Grab a rake now!
All the best,
John
HOW HEALTHY CAN YOU BE?
LOSE WEIGHT & KEEP IT OFF
STOP SMOKING FOREVER
SLEEP THROUGH THE NIGHT EVERY NIGHT
IMPROVE YOUR SELF CONFIDENCE
RELAX IN 2 MINUTES
VIRTUAL MASSAGE
Be Sociable, Share!
Comments Off

on Fall Cleanup