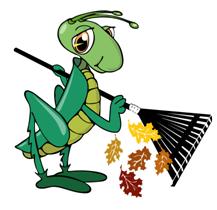 Fall in New England is a spectacular sight. I'm reminded of the Froot Loops
cereal ads when I was a kid – "Cherry red, lemon yellow and orange orange."
While walking through this color fest, I was also reminded of an old joke. "Have you heard of the Autumn Leaves Cocktail? Drink two of these and you change colors and fall down."
It was the falling down part that struck me as I walked the dog yesterday. The phrase "One leaf, one life" popped into my head.
Like all living things, a leaf has a lifespan – birth, stages of life and death. It's probably no coincidence that Halloween is filled with reminders of death, such as skeleton costumes and the like. It falls on a date when the leaves are just about done falling.
"One leaf, one life," the phrase stuck with me.
There is nothing like death to get you focused on life. Perhaps it's why many people call Fall their favorite season – falling reminders to live life to the fullest.
"One leaf, one life," is a focusing phrase. It reminds us that we can only live one life. Even if you're a believer in reincarnation, you can only live one life at any one time.
Nature is very instructive. It mirrors our lifespan to us – our "leaf-span" so to speak.
Somewhere we bought into the illusionary idea that life is a dress rehearsal and we don't give life its proper respect. "One leaf, one life" brings reality back into focus.
Our life's mission is to allow as much life into our one life as is possible. This is not the pseudo-life that is reflected in the beer ad that stated, "You only go around once in life, so grab all the gusto you can get." That suggests that you have to go get life. You don't. Many people spend their whole life chasing life instead of stopping to live it.
"One leaf, one life" is a reminder to start living life no matter what stage of it you are in.
There is only one life and it flows through every leaf.
It is hoped that you'll find it before you fall down and they rake your leaf away.
All the best,
John
HOW HEALTHY CAN YOU BE?
LOSE WEIGHT & KEEP IT OFF
STOP SMOKING FOREVER
SLEEP THROUGH THE NIGHT EVERY NIGHT
IMPROVE YOUR SELF CONFIDENCE
RELAX IN 2 MINUTES
VIRTUAL MASSAGE
Be Sociable, Share!