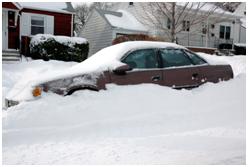 The Grasshopper had an elegant quote this morning – "Adversity shows you me."
The definition of "me" in this case is a collection of conditioned patterns. When someone runs up against confusion or adversity, they will show you their preferred, conditioned strategy. This patterned way of handling things is often out of our awareness.
The recent snows on the East Coast of the United States, presented a lot of adversity for those of us that had to deal with the different situations the storms presented.
For instance, I found myself going into information seeking mode. It wasn't very clear to me until just this morning that information gathering is my patterned way of reacting to adversity.
It seems that information presents me with options – options that wouldn't have been clear unless I sought the information.
This isn't an argument for me having the best option; it's more of an invitation to find out what your patterned way of dealing with adversity is.
This recognition may show you an aspect of you that you didn't realize before. Your strategy, whether workable or not, gives you some perspective about what's worthwhile holding on to and what isn't.
How do you handle adversity? Here's a sure bet: You do it the same way every time.
The next question is: How's that working for you?
It's this workability assessment that gives you clear insight as to which of your patterns that may need attention.
So let me adjust The Grasshopper's quote just a bit so you can gain some personal insight. "Adversity shows you, you."
All the best,
John
LOSE WEIGHT & KEEP IT OFF
STOP SMOKING FOREVER
SLEEP THROUGH THE NIGHT EVERY NIGHT
IMPROVE YOUR SELF CONFIDENCE
RELAX IN 2 MINUTES
FEEL FOREVER YOUNG
VIRTUAL MASSAGE
Be Sociable, Share!
Comments Off

on Adversity