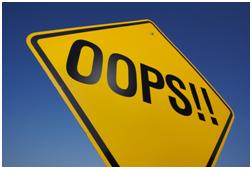 How often do we get caught up in the minutia and miss the message?
I must admit I have been one of the biggest offenders. For example, I could easily be labeled a spelling and pronunciation snob.
I could easily blame it on my broadcasting background or my mother, who easily rivaled the character, Mrs. Malaprop by her misuse of words.
For example, she once referred to a man who injured his back and then returned to his job part time as "working spasmodically."
Another time she bought this elegant tureen and called it a "soup latrine."
Of course, I would correct her, usually to no avail. Then one day she got angry with me and asked, "Do you understand what I'm saying?"
I knew exactly what she meant but I got caught up in the minutia.
When you get sidetracked by the minutia, you often derail the communication by getting wrapped up in what doesn't matter. It's productive to correct a broadcaster who pronounces "awry" as AWE-ree when that's your job. It's another thing to be the world's arbiter of spelling and pronunciation.
That doesn't mean you don't notice; it just means to notice when it's not going to make a difference, and interrupt your penchant to interrupt the flow of communication.
This goes past spelling and pronunciation. If you have a prejudice against people who are uneducated, you're going to get caught up in knowing better and miss out on what they know. Everybody has a piece of the puzzle you don't have, but you'll never get it if you stop listening.
This skill may have made me a great continuity director for movies. For example, if you've ever seen The Godfather, you may have missed this small piece of continuity. At Vito Corleone's funeral, there is a quick shot of his headstone and it reads that he died in April. If you remember, he died in his garden in New York. No one has full grown tomatoes in their outside garden in New York in April.
Did this oversight prevent this from being one of the classic movies? No.
Yes, it's fun to notice, but if the conversation becomes all about the flaws rather than the substance, we are rolling in the minutia. Translation: Dog shit.
So the next time you're about to show someone your superiority, you may want to first notice if it's going to matter. This keeps the communication flowing and you smelling better.
All the best,
John
LOSE WEIGHT & KEEP IT OFF
STOP SMOKING FOREVER
SLEEP THROUGH THE NIGHT EVERY NIGHT
IMPROVE YOUR SELF CONFIDENCE
RELAX IN 2 MINUTES
FEEL FOREVER YOUNG
VIRTUAL MASSAGE
Be Sociable, Share!
Comments Off

on Minutia – Message