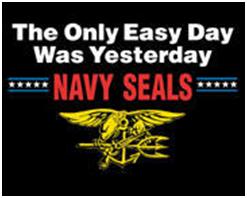 A few years ago my sister bought me something at my request. She bought me a Navy SEALs t-shirt.
My sister is the proud mother of four children, two of whom are Navy SEALs and she had access to the shop on base to buy me the shirt. The motto on the shirt reads: "The Only Easy Day Was Yesterday."
This phrase serves as a reminder to me that what you did yesterday may very well be exceptional, but life is all about this moment.
Yesterday may be rewarding to reminisce about and tomorrow may be worth dreaming about, but the only moment action takes place is in the moment you're in.
Navy SEALS on a mission can't get caught up in moments that don't exist now and neither can we. It will rob us of our life.
Our lives are made up of the moments we are in. If we spend too much time in a moment that either no longer exists or doesn't exist yet, we are missing our life.
Today, get curious about how many of your moments are about harkening back to, or waiting for another moment to arrive.
If you do this personal time management study, you're likely to discover that you are living much of your life in your head rather than in the moment that's here.
It's a focusing exercise that we can all benefit from. The result of doing this assessment takes us to the same place each time – this moment.
Getting out of our head and inhabiting our body also brings us back to the only time there is – Right Now!
Our bodies live in this moment, even though our heads may be in the clouds. Bringing your attention back to your body will bring you back to this moment.
You can discover the secret of a Navy SEAL on a mission; just immerse yourself in the moment and feel the aliveness of being focused on the only time that matters – Right Now!
All the best,
John
ACCOMPLISH ANYTHING
LOSE WEIGHT & KEEP IT OFF
STOP SMOKING FOREVER
SLEEP THROUGH THE NIGHT EVERY NIGHT
IMPROVE YOUR SELF CONFIDENCE
I LOVE MY BODY
RELAX IN 2 MINUTES
FEEL FOREVER YOUNG
VIRTUAL MASSAGE
Be Sociable, Share!
Comments Off

on Right Now