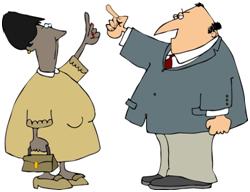 I can't remember a time when a debate deepened a relationship.
The ones I remember had an opportunity for one person to speak and then the other person would get their chance.
If you were an observer of that debate, you may have learned something; as a participant, you were too busy making your point and missed an opportunity to relate to another.
Many people are involved in "relationships" of exchanging sentences. There is no real relating happening – just point – counterpoint.
Have you ever been in a "conversation" with someone who tunes out when the topic material isn't one they're interested in? They have no intention of relating to you unless what you're saying is in tune with what they want to hear.
The telltale sign is that you are in mid sentence about a topic that interests you and they interrupt you and go on to a completely unrelated topic. What they communicate by such behavior is no interest in you or your topic material. They think they are having a conversation.
I wrote a blog post a couple of years ago called "Conversation." In it The Grasshopper said, "A conversation is more fruitful when it's more about discovery and less about what you know."
That's another way of saying that in order to relate you have to be willing to learn something about another.
In order to learn something, you must pay attention to them, not just wait for them to pause so you can expound on your secrets of the universe.
The mistake we often make is assuming that we know all about another and stop listening to them. You can discover something new and interesting about someone you've known your whole life when you take the time to relate, rather than make points as in a debate.
Become an observer of your interactions and begin to notice if you are debating or relating. One will leave you with the feeling of two ships passing in the night; the other will dock you together in the same port.
All the best,
John
ACCOMPLISH ANYTHING
LOSE WEIGHT & KEEP IT OFF
STOP SMOKING FOREVER
SLEEP THROUGH THE NIGHT EVERY NIGHT
IMPROVE YOUR SELF CONFIDENCE
I LOVE MY BODY
RELAX IN 2 MINUTES
FEEL FOREVER YOUNG
VIRTUAL MASSAGE
Be Sociable, Share!
Comments Off

on Relate vs. Debate