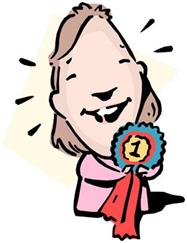 About 25 years ago, I uttered these words to someone out of frustration: "You are your own reward."
I was attempting to insult them because I thought they were acting spinelessly in a situation that affected me. My intent was to let them know they had to live with themselves, and that couldn't be very inviting.
It wasn't until much later that I came to the realization that my observation is universally true for all of us, at all times – We are all our own reward.
We live with ourselves 24/7. It's either a welcoming place or it's not.
What are we coming home to each day?
In the past, when I observed someone acting miserable, I would label them as such and shun them as though they had a contagious disease.
I'm still not entirely comfortable around miserable people, but I have more empathy for them now. It arose out of nowhere one day when I said these words: "Imagine what it's like having to live inside their head."
We all come back to the same mooring post each day and our life will be affected by the thoughts we are harboring.
The standard self help prescriptions don't seem to work: "Change your thoughts, change your life" or my personal favorite, "Think positive."
A positive thought doesn't cancel a negative thought; it just sets up an internal argument.
There is a process that makes what you think more rewarding – Noticing your thinking.
Timing is everything in this process. The key is to catch yourself in mid thought and just observe your thoughts as though you are a third party.
The key for this to be effective is to just witness your thoughts as they go by, not judge them or engage them. What you will discover by noticing your thoughts is that your thoughts think you, not the other way around.
If the thoughts in your head are not welcoming thoughts, begin to observe them as though you are watching a movie. We all have the ability to do this simple process.
The reward is that, when observed, thoughts have less of a hold on you.
When you are watching your thoughts, you aren't engaging with your thoughts, which gives them no one to argue with and they begin to fade away.
This isn't a one-time quick fix. They will come back to tempt you into an argument. Did you ever notice that some people like to argue for argument's sake? Your thoughts are the same way. That's why some people are more miserable than others; they're inside arguing with their thoughts.
By observing your thoughts, you are training yourself not to argue with them. The more adept you get at observation, the less you'll deal with unwelcomed thoughts. When observed, thoughts know they can't goad you into fighting and they come back less often.
Since we are all our own reward, observation insures that we are properly rewarded.
All the best,
John
ACCOMPLISH ANYTHING
LOSE WEIGHT & KEEP IT OFF
STOP SMOKING FOREVER
SLEEP THROUGH THE NIGHT EVERY NIGHT
IMPROVE YOUR SELF CONFIDENCE
I LOVE MY BODY
RELAX IN 2 MINUTES
FEEL FOREVER YOUNG
VIRTUAL MASSAGE
Be Sociable, Share!
Comments Off

on Your Own Reward