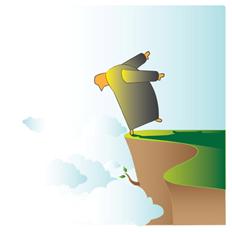 "Follow the Leader," like many maxims, can cut both ways. If the leader you are following is heading off a cliff, it'll be the last old adage you'll ever utter.
The Grasshopper offered this alternative this morning when he said, "Follow in the fruitful steps of those who came before you and you will lead by example."
So how do you know who to follow? In all cases, you initially have no choice. We follow the shapers of our beliefs – our early care givers, and we adopt their beliefs as our own. And all of this is done without our permission. We are like little apes and we mimic what we see and hear until it becomes who we are.
That means we were exposed to all the "good" and "bad" our leaders had to offer.
There comes a point, if you're paying attention, when you discover that many of your beliefs aren't serving you; you are serving them. That means if you continue that belief, you will walk off the same cliffs some of your leaders did.
Suppose for example that your leaders had a "there'll never be enough to go around" mindset, or one that communicates that people with a lot of money have character flaws. What do you think the chances of your bank account dropping into the ravine are? Pretty good would be my guess.
Choice is always an option. You can choose to play follow the wrong leader, which are your beliefs that aren't working, OR you can begin to notice those beliefs when they rise up and interrupt them in midstream.
Here is your first clue that you are blinded to choice: When you say any form of "That's the way I am." Sad to admit that there's a part of me that wants to throw that person off the cliff myself. A more accurate statement would be, "That's the way I was conditioned." The second statement is not as concrete as the first and allows for choice.
You can choose a response to any given stimulus instead of going with your conditioned reaction. You open the door to choice when you notice you are running conditioned behavior. Just noticing the behavior in action gets the behavior to slow down long enough for us to notice there is another path. That's the choice point.
Fruitful footsteps are the ones you take when you recognize that the current path you're on will soon have you "walking on air," and not in a good sense.
Fruitful footsteps are a result of choice, not chance. Chances are you'll become more of the leader you would like to follow when you offer yourself a choice.
All the best,
John
JOHN MORGAN COACHING
ACCOMPLISH ANYTHING
LOSE WEIGHT & KEEP IT OFF
STOP SMOKING FOREVER
SLEEP THROUGH THE NIGHT EVERY NIGHT
IMPROVE YOUR SELF CONFIDENCE
I LOVE MY BODY
RELAX IN 2 MINUTES
FEEL FOREVER YOUNG
VIRTUAL MASSAGE
Be Sociable, Share!
Comments Off

on Follow the Leader