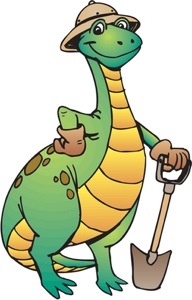 While I was cooking dinner last night, The Grasshopper popped in and offered a tasty tidbit – "The Verge of Distinction."
I had to chew on that for awhile.
I certainly knew what verge of extinction meant, but this turn of a phrase got me curious.
I turned to the dictionary and read many meanings for "distinction," but this one caught my eye: "Excellence that sets someone apart from others."
Then this question arose: "What excellence do you possess and project that sets you apart from others in a way that benefits you all?
In the past, I have referred to that excellence as "Your Gift." We were given something that we didn't have to work at, that comes to us easily, sets us apart from others, and this distinctive gift gives us an opportunity to use it to our and others' advantage.
The Verge of Distinction is recognizing and using your gift.
Non recognition is what keeps people in jobs and pursuits they're unsuited for. Reminds me of a story . . .
I took the last job I had in my broadcasting career for the wrong reason – Money.
I certainly had the credentials and the skill set for the position, but what I was denying was that this job was going to delay me from doing something I was more suited for at that stage in my life.
The good news, although it didn't seem like it at the time, was getting fired from that job. After the scary thoughts of being without work calmed down, I realized what an opportunity this was.
It became clear to me that I was using what came easy to me, communicating, in too small of an arena and it had been benefiting but a few. Although I was handsomely compensated, in the larger scheme of things, it was a Lose-Lose proposition.
I didn't have the guts to quit; I had to wait for reality to cut off my pay and open my eyes to a new way.
Perhaps you're at a crossroads in life and wondering, "what's next?" Before you take that next step, consider your gift and how best it can be applied so that more than a few will benefit. That's the "Verge of Distinction."
How can you distinctively use your gift? It's something to get curious about. Here's how: Write down this question on a note card and place it by your bedside: "How can I best use my gift?"
Ask the question of yourself each night before going off to sleep and don't act too surprised when an answer comes to you from out of the blue. Make a habit of asking yourself this type of question before entering a quiet state of mind or before retiring for the night.
This practice will open your eyes to distinctive new ways of making your old ways extinct.
All the best,
John
VIRTUAL MASSAGE
Be Sociable, Share!
Comments Off

on Distinction