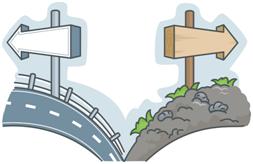 I read a quote from a photojournalist recently that went something like this: "I set out to change the world but the world changed me."
On the surface, most of us would agree with that observation. When you dig a bit deeper, the facts just don't support the claim.
The world doesn't change you, a situation doesn't change you; your response to the situation changes you.
We leave out the fact that we have a choice when we make the claim that someone or something made us do something.
Reminds me of a story I've told before . . .
I was conducting a workshop and asked a participant a hypothetical question. I asked, "If I put a gun to your head and tell you to move to another location and you comply, did I make you move?" She answered "Yes."
She neglected to notice that she had a choice. She also had the unenviable choice to not move and risk having her head blown off.
There are dire situations in the world that people encounter every day. Many change as a result and others do not. Take the serious issue of PTSD (Post Traumatic Stress Disorder) as an example. Many soldiers come home from war and have flashbacks that traumatize them. Others, who have experienced the exact set of circumstances, have no after effects. Is one soldier "tougher" than the other? No, they are just responding differently.
The stimulus/response happens so quickly in the affected party that it seems they have no choice in the matter. In order for them to put this traumatic response behind them, they eventually have to come face to face with the fact that they have a choice. It's the only way to heal. If they conclude that war does this to some people and leave it at that, they likely will be traumatized for life.
A helpful therapist will guide a client to choice. They will help the person appreciate that there is a wedge that we can put between stimulus and response, and each time we do, we offer ourselves a choice. The eventual outcome of repeatedly interrupting a stimulus/response connection is that a different, more productive response will automatically emerge.
The closest we get to control in this life is our response. We just have to recognize that we have a choice in order to make a choice.
The world WILL change you with your unspoken consent. To have some say, it's necessary to notice that there is a choice point between stimulus and response.
All the best,
John
ACCOMPLISH ANYTHING
LOSE WEIGHT & KEEP IT OFF
STOP SMOKING FOREVER
SLEEP THROUGH THE NIGHT EVERY NIGHT
IMPROVE YOUR SELF CONFIDENCE
I LOVE MY BODY
RELAX IN 2 MINUTES
FEEL FOREVER YOUNG
VIRTUAL MASSAGE
Be Sociable, Share!
Comments Off

on Choosing Choice