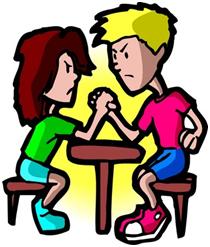 How closely aligned are performance and competition? I'm not sure, so allow me to explore.
My sense is that some people like to perform but when it gets to the edge of competition, they don't perform well.
Take most golfers, pro or amateur, for example. They may perform with laser-like accuracy on the driving range while warming up, but hit it all over the map when they get on the course. One is a performance and the other is competition.
Promising performers in and out of sports have given up something they enjoy because they don't enjoy competition. It explains a lot.
I believe it's criticism of a performance, whether actual or anticipated, that has many performers shy away from competition.
Before an argument ensues as to whether competition is a good or bad thing, let me just say I believe it exists in everyone; it's only a matter of percentages. Those with higher percentages are perceived as competitive; the people lower on that scale are considered not competitive.
Back to criticism . . .
Criticism, constructive or otherwise, causes a number of people to shut down and not be able, or want to perform. It happened to me just this past summer. I was attending a workshop and doing an exercise that I wasn't performing well. I began to receive some coaching on how to do the exercise better and I wasn't improving. I kept swinging and missing. Then the coaching began to come from all corners and I could feel myself shut down. I didn't want to play anymore. I had reached my point of tolerance for criticism. There was no chance for a performance from me at that point. I felt l was competing in an area where I thought I couldn't win.
Some people like to bake and don't want to be in the bakeoff. Others enjoy singing in church but don't want to try out for the choir. That's love of performance. When a chance for criticism rears its head for them, they stop performing, intentionally or otherwise.
I think it's valuable to know at what level of competition you've shut down in the past, because as the old management axiom goes, "If you can't measure it, you can't manage it." In life, we don't always have the luxury to perform without competing.
So how do we get our competition percentage to a higher level? It starts with standard coaching questions. Where are you now? Where do you want to be? What are the steps you need to get there?
It's hard to know where you are on the competition continuum if you've never taken an accurate measurement. Just knowing where you are, is often enough to start movement in a forward direction.
Compete or not compete, that is the question. The answer is if you are happy with and able to give your performances without criticism, keep doing what you are doing. If you are not happy with your performance, you may need to take some critical measurements to start the competition ball rolling.
All the best,
John
ACCOMPLISH ANYTHING
LOSE WEIGHT & KEEP IT OFF
STOP SMOKING FOREVER
SLEEP THROUGH THE NIGHT EVERY NIGHT
IMPROVE YOUR SELF CONFIDENCE
I LOVE MY BODY
RELAX IN 2 MINUTES
FEEL FOREVER YOUNG
VIRTUAL MASSAGE
Be Sociable, Share!
Comments Off

on Performance – Competition