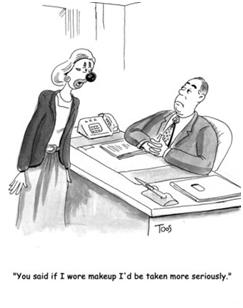 One word with a question mark behind it has slipped into our vocabulary – Seriously?
The implication is: You can't be serious! (Cue John McEnroe)
For me, it brings up the question: What are you serious enough about that won't prompt the question, "Seriously?"
The answer seems to be, "Not much."
I don't think most of us have committed to much of anything worthwhile. We claim it's worthwhile, but our actions seem insincere.
"I love my family" is the top rated piece of drivel that causes me to say, "Seriously?" way too often. For example, how many times have you heard people openly say derogatory things about their siblings, parents, spouse or children? Then in the next breath they say, "I love my family." Seriously, dude?
"It's not about the money" is a close second. Rather than say "always," let me say, "It's almost always about the money – seriously."
To me, "Serious" is what gets the lion's share of your attention. Do a personal assessment right now and answer the question, "What gets most of my attention?" If you are honest, you'd never want to say the answer aloud because it would prompt the response, "Seriously?"
Best as I can tell, it seems we are serious about superficial and not so serious about that which has an impact. Many people put more planning into their vacation than they do their life. If people were as serious about their wedding vows as they are about their wedding plans, you'd see the divorce rate plummet.
I don't believe we give enough serious consideration to that which we say is important. There is a lot of "taking for granted" going on in our lives that needs to be seriously addressed.
You can find what needs more serious attention in your life when you answer the question, "What am I grateful for?" Chances are you are not expressing that gratitude with sufficient frequency. That means you are not taking it seriously.
What or whom would you miss most if they suddenly disappeared? That's something or someone to get serious about, now.
That person or thing needs more of your attention and less of your lip service. If you are unwilling to give them or it that attention, you are in serious do-do.
Where do your actions fall short of your words? That requires a one word response – Seriously?
All the best,
John
ACCOMPLISH ANYTHING
LOSE WEIGHT & KEEP IT OFF
STOP SMOKING FOREVER
SLEEP THROUGH THE NIGHT EVERY NIGHT
IMPROVE YOUR SELF CONFIDENCE
I LOVE MY BODY
RELAX IN 2 MINUTES
FEEL FOREVER YOUNG
VIRTUAL MASSAGE
Be Sociable, Share!
Comments Off

on Seriously?