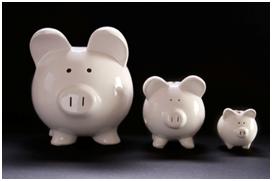 I just got the title for my new self help book that I'll never write. It's called SHRINK AND GROW RICH.
No, it's not about weight loss, nor is it about becoming a wallflower.
It's about reducing the clutter in our mind, so that the productive, profitable ideas can poke through.
Did you ever notice how many thoughts fight for real estate in your mind. It's a crowded landscape that could use major pruning.
Like all daunting tasks, it's always a question of where to begin.
And like all journeys, the answer is to begin where you are. Just notice that your head is crammed to the gills. Noticing is the first step away from being a participant in a process that isn't working.
We keep our thoughts in place by engaging them in conversation, oftentimes with heated debate. That always results in more time spent on something that will never blossom.
Arguing with yourself is dumber than cheating at solitaire. There is no real win.
The bear fruit strategy is to welcome all thoughts without prejudice. Offer no resistance to these loud intruders. Let them have their say and watch how quickly they go away.
It takes some practice because we have been conditioned to fight with our "negative" thoughts. If you set a place for them at the table, and offer no resistance, they will pass through faster than an afternoon thunderstorm in Florida.
The process for making thoughts go away is by inviting them to stay. It only seems like backwards logic until you apply it.
If you need a reminder as to why it pays to be hospitable to these thoughts, remember the mantra – SHRINK AND GROW RICH.
All the best,
John
LOSE WEIGHT & KEEP IT OFF
STOP SMOKING FOREVER
SLEEP THROUGH THE NIGHT EVERY NIGHT
IMPROVE YOUR SELF CONFIDENCE
RELAX IN 2 MINUTES
Be Sociable, Share!
Comments Off

on Shrinking