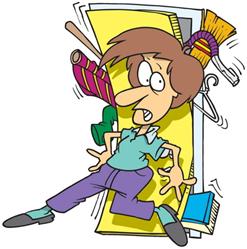 It seems, at some level, we are all collectors. We have our stuff.
Reminds me of a story . . .
Back in my radio days, all the managers of our company were at a meeting in Las Vegas. The program directors had all once been on-air broadcasters and a bunch of us were sitting around discussing our careers and how we got started in radio. One of the youngest guys told us that when he was 10 years old he did a critique of the radio station he listened to in Seattle. He put it in a notebook and the notebook found its way into a box that he forgot about. He found it about 15 years later and read over his assessment with professional eyes and found that he was darn close to the mark when he was 10.
That got everyone to talking about their stuff. Finally, the young man asked, "Does everybody have a box of stuff?" and we all nodded "Yes."
That reminds me of another story . . .
My business partner, another former radio broadcaster, was moving from upstate New York to Florida and had a dilemma. What was he going to do with all his stuff?
He had compiled quite a bit over the years from an international beer can collection to golf balls from around the globe that he collected during his many travels. He had all sorts of stuff. Then, all of a sudden, he had an epiphany. He remembers saying to himself, "If I died today, who would want this stuff?" The things he thought people would want, he gave to them. The things he deemed that those close to him had no interest in, he auctioned off. He hired a professional auctioneer and anything he didn't sell at auction was put out on trash day.
What have you been collecting that no longer has meaning for you?
The answer may not be any list of tangible goods but a collection of things that no longer serve you. How about a long standing grudge, a prejudice that serves no one, or a position on something that just won't stand up to the facts?
We all have our stuff and it may be time for an assessment.
Holding on to that which burdens us keeps us from traveling light. Moving your old stuff from one day to the next can turn into a lifetime of being a pack mule for pain.
Today's thought: It may be time to unstuff your stuff.
All the best,
John
LOSE WEIGHT & KEEP IT OFF
STOP SMOKING FOREVER
SLEEP THROUGH THE NIGHT EVERY NIGHT
IMPROVE YOUR SELF CONFIDENCE
I LOVE MY BODY
RELAX IN 2 MINUTES
FEEL FOREVER YOUNG
VIRTUAL MASSAGE
Be Sociable, Share!