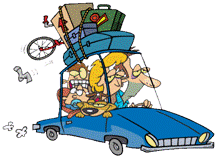 It dawned on me the other day that I'm on vacation, and so are you.
I'm sure you noticed that vacations seem too short, especially so when they are winding down.
Life is a vacation. It's a rest stop between where you came from and where you are going back to. Life, like vacations, is short.
Sometimes it takes us a bit of time to get in the groove of our vacation. Reminds me of a story . . .
I remember being on a family vacation at the Jersey shore in the 80's. We arrived on Saturday and did a whirlwind of activities with the kids the first few days. The pace seemed like my work pace – nonstop. I remember waking up Wednesday morning and heading over to the market to replenish some food supplies. As I was walking from the car to the store, all of a sudden, I noticed that my gait had slowed down. No rush in and rush out mentality. I was leisurely sauntering into the market. I now knew I was on vacation.
It seems that most of us don't get that vacation feel until the second half of our life. We are too busy to notice that we are on vacation and too often fail to take advantage of it.
You'll be going back to where you came from soon enough. While you are here, it makes lots of sense to recognize that you are on vacation.
This recognition allows you to slow your pace and find enjoyment even in the simplest of things, like walking into the market.
Enjoy your vacation!
All the best,
John
LOSE WEIGHT & KEEP IT OFF
STOP SMOKING FOREVER
SLEEP THROUGH THE NIGHT EVERY NIGHT
IMPROVE YOUR SELF CONFIDENCE
I LOVE MY BODY
RELAX IN 2 MINUTES
FEEL FOREVER YOUNG
VIRTUAL MASSAGE
Be Sociable, Share!