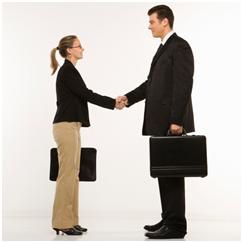 The Grasshopper woke me up with a startling premise: "Compromise isn't temporary."
I immediately thought of a notable exception like a "temporary compromise," so I was a bit confused.
As I awakened more, the wisdom of dawn began to crack any befuddlement I had about the idea.
Then one of my favorite quotes came to mind from Werner Erhard: "The reason life doesn't work is because people don't keep their agreements." I then heard The Grasshopper add this addendum: "Tacit or otherwise."
What is compromise other than an agreement?
People enter compromises all the time. The trouble comes about when they don't live up to them.
My experience is that uncompromising people run into the one sticky wicket after another because they don't believe they have to compromise. It's for others, not them. And even when they do, they have no intention of following through. They lay a false foundation that always crumbles beneath them.
To them, quid pro quo means only I get to say, "No."
You certainly have the absolute right to not compromise. You also have written your epitaph in the wind: I remained alone and wondered why.
Who wants to enter a compromise with someone who's always in reverse?
It's not that they don't believe in compromise, they do, but only ones that work for them and not you.
Compromise in order to work needs mutual commitment. If either party enters one with their fingers crossed behind their back, plan on eventually seeing only one of their fingers up front.
To say that people who don't compromise are incredibly selfish only scratches the veneer. There is steadfast opposition to anything that doesn't rigidly serve their agenda beneath the surface, driving them towards the highway of my way.
They never recognize the reason they are forever walking out is because they have never walked in without an uncompromising agenda.
Relationships will be temporary to those unwilling to bend, and they'll wonder all the way to the end.
All the best,
John
LOSE WEIGHT & KEEP IT OFF
STOP SMOKING FOREVER
SLEEP THROUGH THE NIGHT EVERY NIGHT
IMPROVE YOUR SELF CONFIDENCE
I LOVE MY BODY
RELAX IN 2 MINUTES
FEEL FOREVER YOUNG
VIRTUAL MASSAGE
Be Sociable, Share!
Comments Off

on Compromise