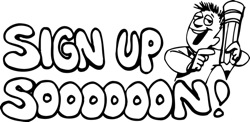 The end of soon will not happen soon enough for me.
This is a mini-rant.
I detest the word "Soon." It is the fluffiest word in the dictionary and I'm just as guilty of using it as anyone else.
When is soon? It could be a few seconds to a lifetime depending on who's using it.
I would rather endure a monsoon than soon.
I got a sales call disguised as a service call last week. The person reportedly wanted to thank me for my business of a recent purchase and then went on to pitch me on another of their products. I inquired when the product I had ordered would be arriving. She replied, "Soon."
I responded with a question: "When specifically is soon?" She then said, "Oh, that's not my department; I don't really know." I said, "You know enough to lie to me to say, 'Soon'" and then I politely ended the call.
"Soon" is often a parent word. We use it to as shorthand for "Shut up."
When someone offers you "Soon," they are giving you a handful of air. If you accept "Soon," you will be disappointed because your timeframe of soon will not match theirs.
It's always useful to get clarification of "Soon." My personal favorite is, "How soon will that happen?" If they come back with "Oh, soon," you know you are dealing with a person who doesn't know.
Just for fun, notice how many times you hear the word "Soon" today and know that the person using it has nothing to say.
Rant over!
All the best,
John
VIRTUAL MASSAGE
Be Sociable, Share!