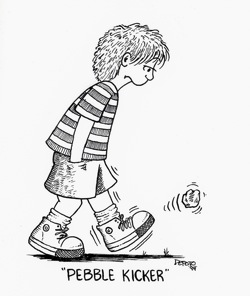 I was cleaning out a closet and found the picture you see in this post. I had someone draw it for my late teacher, Dr. Dave Dobson back in the 90s.
"Pebble Kicker" is how he responded when someone asked him what he did. He didn't say he was a psychologist, a hypnotherapist or a candlestick maker. he said, "Pebble Kicker."
It was his way of describing how he got you moving in the direction you wanted to go. He explained that when you kick a pebble down a hill, it unearths other pebbles that come along for the ride. One little pebble can create a whole host of pebbles – options.
He could have easily told you what to do but that would have been impoverishing in at least two ways:
1. Others have already told you a way to go and you ignored their advice, so why would his way have any different result?
2. It would only provide one answer.
Dave knew you had a quarry of answers but often settled for only one unmovable rock.
By kicking a pebble, he knew you could come up with more options than either one of you knew you had.
Think of a pebble not as a thought starter, but as a seed planted at a deeper level than thought, that produces a giant harvest. The objective is not to stop and think because the operative words in that directive are "Stop" and "Think" – both of which have no movement attached to them.
A kicked pebble results in an avalanche of action.
If you're even the slightest bit curious about pebble kicking, don't be too surprised after reading this if a pebble parade starts happening within you. I could tell you what to do, but what fun is it knowing my answer when you can produce an endless supply of your own.
I now have a new appreciation for the old maxim, "A rolling stone gathers no moss."
I wonder what will begin rolling within you now.
All the best,
John
VIRTUAL MASSAGE
Be Sociable, Share!
Comments Off

on Pebble Kicker