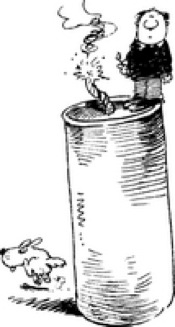 I already know that when I take Snuffy, the Black Nosed Beagle for a walk this morning that I will see the streets strewn with empty fireworks containers used to celebrate the 4th of July.
As I may have mentioned before, I'm not a big fan of fireworks, especially in the hands of untrained people. But this isn't a rant about fireworks; it's an observation about us.
Superficiality is the equivalent of human fireworks. I wonder how many people woke up empty this morning after their spectacular display yesterday?
Yesterday, they again chased superficial in search of the big bang they are looking for and, as usual, only got a few ceremonial pops. You would think the empty feeling they awoke with would be evidence enough to look in a different direction.
But no, the next celebration is already being planned for with deep hopes that this will be the one. That hope will follow you to the grave, unless you discover that superficial has all the firepower of an empty fireworks container.
Your depth cannot be held by a container but it contains the energy to light up your life for a lifetime. Your depth isn't out there in the exploding sky. That's a sparkly toy that will be useless after you play with it once. But we seem hellbent on buying the new and improved version in order to get a bigger blast.
What we are really looking for when we chase after the showy explosions is an implosion. Implosion is the discovery of depth. Rather than chase the comet across creation, find the core of your combustion that allows you to be comfortable with who you are wherever you are.
Depth can't be bought but the good news is you already own it. You just have to dig past the empty fireworks containers to find it.
Declare your independence from superficiality and you'll find what you've been looking for – a much deeper you.
All the best,
John
VIRTUAL MASSAGE
Be Sociable, Share!
Comments Off

on Empty Fireworks