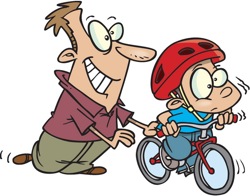 It seems to me that hardly anyone would argue with this characterization of a good friend: One who continues to listen to your story when everyone else is tired of hearing it.
The Grasshopper gave me this definition of a great friend: One who won't let you stay stuck in your story.
Reminds me of a story . . . There are a number of actors who have received fame by being typecast. That means they are so associated with one role that they are hardly ever considered for others. Think of Michael Richards who played "Kramer" on "Seinfeld." That's a show-biz example of the results of staying stuck in your story.
We're not as famous as Michael Richards but our stories do keep us just as stuck. We've told them so often that we've become typecast. Who can help us break the mold? Only a great friend.
People don't gravitate to great friends; they look to walk the path of least resistance and move in the direction of good friends who will listen once again.
In my opinion, the "Oprah" show was hugely successful for 25 years by being a good friend. It kept highlighting the same problems over and over again and rarely offered a solution. It acted as a comfort zone to let you know you weren't alone. I think that is a valuable service but not a great model for getting you unstuck.
A great friend will listen to your story too, but won't let you stay there. They will present options to move you forward and challenge you when you dig in your heels to stay stuck. They will pry you out of your comfort zone and lead you across bumpy roads, with only your success in mind.
Great friends aren't as plentiful as good ones, and frankly, not as well liked. If your only goal is to have someone like you, listen to their story again and again and you will be a good friend. But if you truly care, take this dare: Become a great friend and help someone you care about risk leaving their comfort zone.
All the best,
John
VIRTUAL MASSAGE
Be Sociable, Share!
Comments Off

on A Great Friend