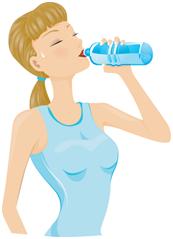 How much water do you drink on a daily basis? If you're like me and most people, not that much.
I think I drink more water than the average bear but my sense is it's not enough.
Many people increase their water intake when they go on diets and cut back when their diet is over. There is a direct correlation to the decrease of water and the increase of pound "creepage."
Some people who go on monastic diets eat nothing but one food to get them skinny. They find some exotic grain found only in the foothills of the Andes and consume it until they succeed. You know the rest of the story. They gain the weight back because what they are doing is not long-term repeatable or feasible.
Drinking more water regularly is repeatable and pays dividends. In my opinion, it's a habit worth developing. Reminds me of two stories . . .
Some 40 years ago I was introduced to seltzer by my stepfather. It was a staple of his upbringing and it was in the house all the time. It was an acquired taste for me. It was bland and bubbly, but it did produce belches you could take pride in. What I noticed, after it became a habit, was that I was drinking more seltzer and less sugared drinks, to the point that I rarely drink sugared drinks now. Seltzer is something that's always in my house and everybody who lives here reaches for it naturally.
I was reading a story of former supermodel, Elle Macpherson who is the mother of two and is in magnificent shape at age 47. She eats rather well as you may imagine and she drinks lots of water. In fact, she offers this challenge to women (and I suppose to men as well): "I challenge any woman to drink 3 liters (about 100 ounces) of water everyday for a month and sleep for 7 hours a night, that she won't lose weight, look better and feel better."
I don't know what the magic number is for water intake but I suspect it's somewhere between the number we've always heard – eight glasses a day (64 ounces) and the amount in Macpherson's challenge. Our challenge is to make more water intake a daily habit rather than a temporary fix. You may make more trips to the bathroom but it will give you more opportunities to look in the mirror and see how good you look.
Bottoms up!
All the Best & Happy New Year!
John
JOHN MORGAN COACHING
ACCOMPLISH ANYTHING
LOSE WEIGHT & KEEP IT OFF
STOP SMOKING FOREVER
SLEEP THROUGH THE NIGHT EVERY NIGHT
IMPROVE YOUR SELF CONFIDENCE
I LOVE MY BODY
RELAX IN 2 MINUTES
FEEL FOREVER YOUNG
VIRTUAL MASSAGE
Be Sociable, Share!