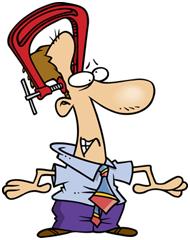 For the last couple of days I've been feeling pressured to write about pressure.
Where is my pressure coming from? It's coming from the same place it always comes from – Me!
We create our own pressure and attribute it to someone else or to a set of circumstances. For example, "He/She is pressuring me" OR "It's the pressure of the job."
He or she may be making a demand, or the job or role may be demanding, but the pressure always comes from you.
Pressure is a sensation that we create in our body. It's how we have been conditioned to respond to demanding people or situations.
What if your boss says, "Have this report done by 5 o'clock or you're fired." Are they pressuring you or using your ability to pressure yourself? They are making a request with consequences and you create the pressure.
It's useful to know where pressure is coming from in order to diffuse pressure. If it's perceived as out there somewhere, you'll have a difficult time getting to the pressure release valves. If they are close by, they are easier to reach.
Envision the "Supermom" who needs some pressure relief. She believes she needs relief from her circumstances, when what she really needs is relief from the standards she's pressuring herself to uphold. The thinking goes something like this: "If I don't fold all of that laundry, I'm a bad housekeeper. If I don't volunteer at the school more often, I'm a bad parent. If I dedicate more time to my job, I'll be a bad wife." The list goes on and on.
If you are paying attention, you'll see where the pressure is coming from. It comes from you. If you can turn it on, you can turn it off.
I don't know where I first heard this next line but it's useful in appreciating where pressure comes from and how to diffuse it. "A bill is not a bill until it is paid."
If you have bills piling up, as many of us do during trying times, you pressure yourself unnecessarily by focusing on the pile. You can only pay them when you pay them, no matter how bad you make yourself feel in the meantime. That's undue pressure.
Begin to recognize that you are the one applying pressure and you'll have easier access to the valves. What if you adopted the reality strategy of "The laundry will be folded when it's folded," rather than pressuring yourself to live up to an impossible standard?
Life will continue to make demands on your time and abilities. You can relieve lots of the stress simply by noticing that you're applying the pressure.
All the best,
John
JOHN MORGAN COACHING
ACCOMPLISH ANYTHING
LOSE WEIGHT & KEEP IT OFF
STOP SMOKING FOREVER
SLEEP THROUGH THE NIGHT EVERY NIGHT
IMPROVE YOUR SELF CONFIDENCE
I LOVE MY BODY
RELAX IN 2 MINUTES
FEEL FOREVER YOUNG
VIRTUAL MASSAGE
Be Sociable, Share!