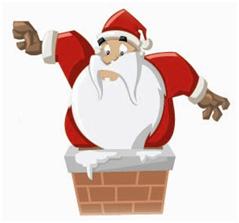 'tis the season for upsets, or so it seems.
My guess is that our seasonal upsets are driven by the chasm between the way it is and the way it should be.
Christmas time, for many, is a "way it should be" time. We should all be loving of our fellow man, have our hearts filled with joy and see the world through the eyes of a child, like when we were little girls and boys.
That just may not be the way it is for you right now. That's the way it is.
When Christmas Past and Christmas Present have a difference, the fireworks make it seem more like the 4th of July.
If you can catch yourself about to erupt to the pain of "the way it isn't," you will preserve the Christmas Spirit for you and those you care about. If you hang onto the way it should be, you will put a pile of coal under everyone's tree.
One of my favorite sayings is: You're rarely upset for the reason you think. You think you're upset because of some specific stimulus. Upon inspection, that's rarely the case. The stimulus becomes the excuse to be upset when, in fact, it's often what the stimulus stimulated from a time in the past that's causing the upset. "It was better then," may be the thought and the reality is, "it's not that way now." The resulting upset could cause Santa to crash his sleigh into the side of a mountain.
Your biggest ally this holiday season and throughout the year is your ability to take a breath. Notice that you are upset, take a deep breath and just sigh it out. Do it a couple of times for good measure. You will find that this interruption of your upset is enough to keep you from upsetting the sugarplum cart.
If you can notice yourself caught between the "way it is" and the "way it should be," that's often enough to prevent the Grinch from stealing Christmas.
Merry Christmas,
John
JOHN MORGAN COACHING
ACCOMPLISH ANYTHING
LOSE WEIGHT & KEEP IT OFF
STOP SMOKING FOREVER
SLEEP THROUGH THE NIGHT EVERY NIGHT
IMPROVE YOUR SELF CONFIDENCE
I LOVE MY BODY
RELAX IN 2 MINUTES
FEEL FOREVER YOUNG
VIRTUAL MASSAGE
Be Sociable, Share!
Comments Off

on Seasonal Upsets