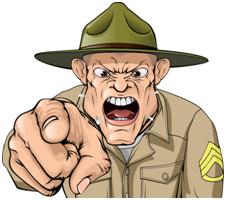 What did I learn from my enemies? My sense is if you can answer that question, your maturation level is head and shoulders above the rest.
Enemies in this context may be someone you were friendly with before, like an ex, an old boss, a parent or another family member. For whatever reason that warm fuzzy turned into the steely cold attitude you have towards them now.
You may never have warm feelings for them again, but don't let that stop you from finding out if you learned something from them that serves you well today.
It's an exercise in appreciation. Reminds me of a story . . .
Anyone who ever attended military basic training can verify the phenomenon I'm about to outline. You have a trainer who insults you, works you to exhaustion and finds any number of dastardly ways to break down your resistance. You come to hate them. You'd be surprised at the number of people who graduate basic training and want to go have a beer with their trainer. They came to appreciate what the trainer did for them.
Others hold animosity towards the person forever and never fully appreciate what they learned by being associated with them.
I'm not asking you to overlook bad treatment from people in your life. Address it if you can. Nor am I asking you to mend a fence with this person. I'm only suggesting that you find something productive or useful that you learned from this person and appreciate them for it. You don't even have to express your appreciation to them, only to yourself.
Here's the result: If you are adult enough to answer the question "What did I learn from my enemies?", you are on your way to experiencing the salve and clear headedness that maturity brings.
I've experienced too many people who carry around the "Those Bastards" model around in their head to know for sure that they don't mature.
If you attempt to find out what useful thing you learned from that bastard, you will experience appreciation, which is a sign of maturity.
All the best,
John
JOHN MORGAN COACHING
ACCOMPLISH ANYTHING
LOSE WEIGHT & KEEP IT OFF
STOP SMOKING FOREVER
SLEEP THROUGH THE NIGHT EVERY NIGHT
IMPROVE YOUR SELF CONFIDENCE
I LOVE MY BODY
RELAX IN 2 MINUTES
FEEL FOREVER YOUNG
VIRTUAL MASSAGE
Be Sociable, Share!
Comments Off

on A Sign of Maturity