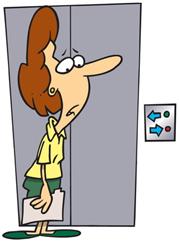 How many lateral moves have you made in your life? If you're like most of us, there are too many to count.

Lest you think I'm talking about your job, let me assure you it's deeper than that.
Lateral moves are what we do every day. They're the sideways moves to accumulate more data, knowledge and experience in hopes of moving us forward. The results are anti-climactic. Once we get to that forward point, we want to go farther, and the race begins again – the race to nowhere. There is no satisfying destination associated with lateral moves.
The parallel plane to lateral moves is depth. Once your reach depth, there is no other destination that's necessary. Depth may not make you smarter or richer, but it will enrich you and your wisdom far beyond any lateral move you can make.
Depth is a place from where we can view the insanity of what we do.
It's a place of observation rather than judgement.
Depth is reached when we can step away and just notice ourselves in action without having to participate.
Depth is becoming aware of what we do when we are doing it. Depth is the place where change is born.
When you notice what you do while you are doing it, you are at the threshold of change. Change is the natural offshoot of depth. Lateral moves are marketed as change but they only keep you in the same place with a different zip code.
Take a moment today and just observe yourself in action. What you will notice is that you truly can't move forward when you run from side to side.
All the best,
John
JOHN MORGAN COACHING
ACCOMPLISH ANYTHING
LOSE WEIGHT & KEEP IT OFF
STOP SMOKING FOREVER
SLEEP THROUGH THE NIGHT EVERY NIGHT
IMPROVE YOUR SELF CONFIDENCE
I LOVE MY BODY
RELAX IN 2 MINUTES
FEEL FOREVER YOUNG
VIRTUAL MASSAGE
Be Sociable, Share!
Comments Off

on Lateral Moves