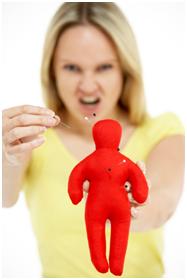 When is hatred useful?
The knee-jerk reaction is "Never!"
I believe I have found an exception. No, it's not against Osama bin Laden or BP.
It's useful towards our unwillingness to accept.
I've written before that we really don't have a choice when it comes to accepting, and it bears repetition now. When something happens, it happens. If you say you don't accept it, you have just denied reality. You may not like it, you may make efforts to change it, but you cannot not accept it.
I hate that I can't accept.
My mission is to take the energy that fuels hatred and direct it towards acceptance.
Admitting that you hate something just shows that you are human. We, as a species, are pretty adept at hating. We just aim our hatred in the wrong direction. We rage against reality instead of against our unwillingness to accept.
If we took the energy that fuels hatred and directed it towards acceptance we would have a more peaceful life.
We misuse our hatred. We direct it at things we wish didn't happen instead of using it to get us to the neutral position of acceptance.
From the vantage point of acceptance, the way forward becomes clearer, not obscured by the blindness hatred causes.
Repeat after me: "It's OK to hate" as long as that hatred is towards the one thing that stands in the way of your peace – the unwillingness to accept.
The founder of "Radical Forgiveness," Colin Tipping offers a brilliant strategy that can get you on the path to accepting. When you say that you cannot accept something, he doesn't quibble with that. He merely requests that you accept that you cannot accept something. By doing so, you allow acceptance in the back door giving it shelter and room to grow.
The fact is we do have the ability to accept, we just don't use it. Don't you just hate that?
All the best,
John
LOSE WEIGHT & KEEP IT OFF
STOP SMOKING FOREVER
SLEEP THROUGH THE NIGHT EVERY NIGHT
IMPROVE YOUR SELF CONFIDENCE
I LOVE MY BODY
RELAX IN 2 MINUTES
FEEL FOREVER YOUNG
VIRTUAL MASSAGE
Be Sociable, Share!