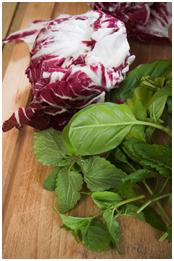 You're familiar with the expression, "We've come full circle." It basically means we've come back to where we began, or to a point of contention that hasn't been settled.
The Grasshopper has a unique take on "Full Circle." He said, "You can't chew your cabbage twice until you chew it once."
I get that to mean that some people will go around in circles without ever addressing what's at issue. It's what a heavyweight boxing match would look like if the fighters only circled each other for the entire bout, No blood would be shed; but nothing would be decided either.
No matter how well your parents brought you up, sometimes it's necessary to get into the mud with someone. Avoiding conflict at all cost just means that you are unwilling to give credence to the downside of life. It exists, and without it, we would have far less appreciation for the upside.
Grappling in the mud will get you covered in it, but notice the bond that's formed with the other who's willing to go there with you. Look at athletes who clash with each other in their respective arenas. When the competition is over, they embrace their arch rival. That would never happen unless they agreed to enter the mud. Otherwise, they may have postured their entire careers without coming full circle to address what's at issue.
This isn't about fighting and winning; it's about the courage necessary to settle what's unsettled.
It takes more effort to avoid a sticking point than it does to confront it. Avoidance will have you looking over your shoulder at all times and dying a thousand deaths.
You cut the circle in half when you are willing to engage; you widen it to infinity when you refuse to eat your cabbage.
When you nibble around the cookie, you leave a lot more crumbs than if you bite in. Those crumbs accumulate and get swept under the rug and form a molehill that turns into a mountain that keeps you from coming full circle until you circle the drain.
You really only have 3 choices:
Do nothing.
Do what you've been doing.
Do something new.
The first two will get you what you have now. Doing something new has the best chance of getting you to come full circle and make some coleslaw.
Bon appétit!
All the best,
John
LOSE WEIGHT & KEEP IT OFF
STOP SMOKING FOREVER
SLEEP THROUGH THE NIGHT EVERY NIGHT
IMPROVE YOUR SELF CONFIDENCE
I LOVE MY BODY
RELAX IN 2 MINUTES
FEEL FOREVER YOUNG
VIRTUAL MASSAGE
Be Sociable, Share!
Comments Off

on Full Circle