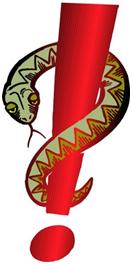 How many exclamation points do you use?
No one can cite the correct amount but everyone is turned off by too many.
Exclamations are generally used as an emphasis or to indicate excitement. Wow!
When there is too much emphasis or too much excitement, they lose their impact.
How often do we abuse another, rhyming E-word – Explanation?
When you explain yourself too often, your explanations become devoid of oomph.
The real question is: How often do you explain yourself?
When you discover that you are forever explaining yourself, you can begin the self correcting of your own personal grammar. This causes you to look over your exclaiming and stop doing the things you find yourself continually explaining.
Too much explaining/exclaiming is the telltale sign of denial. What are you denying with such emphasis?
Whenever I see lots of exclamation points in an ad, I know the writer is either a novice or doesn't believe in the product. Whenever I hear lots of explanations from people, I know they are denying and lying.
Shakespeare was onto this practice many moons ago when he penned this line in Hamlet: "The lady doth protest too much, methinks."

Some will explain themselves until they can no longer draw breath to do so. There is no help for them. They are so immersed in who they believe themselves to be, they will lie and deny, and never let that part of them die. They'll think this blog post is for someone else.
This observation is for all of us. You aren't going to change something unless you're aware of it. Become aware of your explanations and exclamations and see if you are offering too much punctuation.
All the best,
John
LOSE WEIGHT & KEEP IT OFF
STOP SMOKING FOREVER
SLEEP THROUGH THE NIGHT EVERY NIGHT
IMPROVE YOUR SELF CONFIDENCE
I LOVE MY BODY
RELAX IN 2 MINUTES
FEEL FOREVER YOUNG
VIRTUAL MASSAGE
Be Sociable, Share!
Comments Off

on Exclamation!