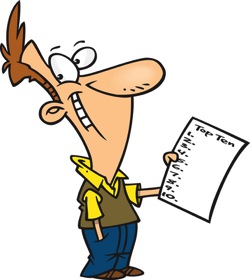 "The devil is in the details," said Anonymous. Side note: When someone asks me what person, living or dead, I would like to have dinner with, I'm going to respond, "Anonymous," because Anonymous said the best stuff.
I was struck last night with how much attention to detail is escaping from the culture. I was out celebrating my birthday at a "Fancy Dan" restaurant. This place is not cheap. Perhaps my noticing a lack of detail from our waiter stemmed from my mother having been a long time waitress, but regardless of the origin, "Tom" must have left his glasses home.
I won't list all the oversights that he made because that's not the point of the story. All I will say is that his lack of attention to detail doesn't warrant him serving in his position. The bus person, his understudy, had enough attention for the entire restaurant.
"Going through the moves" has moved up the ladder in our society to become the norm rather than the exception. When did we stop giving attention to what we do? It's a pandemic and the only cure is attention.
This goes way past getting mediocre service at a restaurant. The example that sticks most in my mind was the space shuttle Challenger disaster in 1986. The cause of the death and destruction was faulty "O" rings. Someone didn't pay attention when they were making and inspecting the "O" rings.
I could cite many more major lacks of attention to detail in our society since then, but I'm sure you have your own examples.
What is not considered when ignoring the details is the reverberating effect it has down the line. Reminds me off a story . . .
I worked at a radio station in the 70s that had the worst receptionist I ever worked with. I wondered why they continued to let her stay in that position. She was snarly and rude on the phone and outright dismissive in person. I will admit that she was rather cute and suspected that's why she was hired.
No one paid attention to the lack of attention she paid to her job. She was the first impression someone calling or visiting our station was left with, and, aside from her looks, she was less than impressive.
Apparently the rubber hit the road the day she didn't give attention to a message she had taken for our general manager from our biggest client – a huge car dealership. The important message never got passed on and the car dealer cancelled all his advertising and vowed never to return. She was fired that day and, to this day, that car dealer doesn't do business with that station.
This is a mini-rant on lack of attention that I hope captures your attention, because if it continues at its current pace, it's a race to the bottom.
We can all pay more attention to the details in our little corner of the world. It makes for smoother experiences and it would make Anonymous proud.
All the best,
John
Be Sociable, Share!