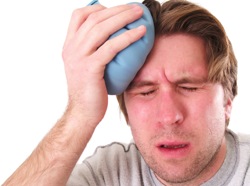 I have never met anyone who hasn't banged their head against the wall. It's a universal occurrence and, for some, it's an everyday event.
The old joke comes to mind.
Psychiatrist: "Why do you bang your head against the wall?

Patient: "Because it feels so good when I stop."
Our mission is to stop because when we do, we feel better.
Some are really dyed-in-the-wool head bangers. Their skulls have gotten so thick with calluses that the message to stop has a hard time getting through. Reminds me of a story . . .
This past weekend I was online and searching for information on a boyhood friend. He drank more alcohol than any person I ever met. This habit caused him untold personal misery, not to mention to those around him. There was never a time, as an adult, that I didn't see him on his way to being drunk, drunk or hung over. I haven't seen him in 25 years and wondered if he even was still alive. To my surprise, there he was online in an orange jumpsuit serving a sentence for bail violation and DUI. Apparently, he's been in and out of local jails numerous times just over the past few years all due to his brand of head banging – drinking.
This isn't an essay on tea totaling; it's more of an attempt to get us to notice our own habit of head banging and pursue the relief that stopping brings.
All head banging is purposeful. That means, at one time, it served a purpose. It solved a problem. Many young people start to smoke to be accepted by their peer group. Smoking does that for them. It also becomes an addictive habit. The purpose for smoking no longer consciously exists, but the purposeful pattern lingers on. Walls are broken and skulls are damaged.
It's time to recognize our version of head banging and pursue the feeling that stopping brings. Many years ago best selling author, Harvey Diamond told me, "To get healthy, you have to return yourself to the conditions of health."
The feeling is there just waiting for you. You just have to return yourself to the conditions that will allow it to come forth. In the case of head banging, the remedy is stopping.
Perhaps you need help. Seek it.
This posting is an attempt to get you to notice that you are banging your head against the wall, and to remind you that the universal remedy is stopping.
Return yourself to the conditions that existed before you began head banging, and it won't be too long before you're properly using your head.
All the best,
John
RELAX IN 2 MINUTES
I LOVE MY BODY
Be Sociable, Share!
Comments Off

on Head Banging