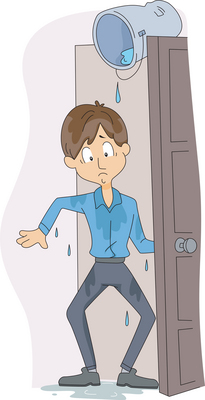 There is a distinct difference between "it happened" and "it happened to me." The latter contains personalization and that, alone, has the ability to cause more pain than what happened.
We personalize so many things that cause us harm. I can think of no better example than personalizing a disease or malady. "My arthritis," "my migraines," "my cancer" are just a few examples of how we bring on the pain of personalization.
Think about it, who wants to own a disease? The minute you label it as belonging to you, it's as though you have taken in a stray cat – it'll be there for all nine lives.
I'm not suggesting denial, just depersonalization. It won't take away your disease but it will spare you the additional suffering that personalization brings.
In my free e-book – The Success Triangle – I write about a phrase I learned that lets us approach the concept of "My" from a different angle with a greater chance for our condition to abate. That phrase is "In the past." Here is an excerpt:
Many people hold their state of health in place with words. The most destructive label is the word "My." "My arthritis" won't allow me to play tennis anymore. "My diabetes" leaves me with little energy. Two things that will give you more power immediately are:

1. Drop the word "My" from any disease process.

2. Apply "In the past" to any limitation you ascribe to the disease.

For example: "In the past, arthritis has kept me from playing tennis." "In the past, diabetes has caused me to feel less energetic."
"My" is a word, to which we've been conditioned, that means ownership. Who wants to own arthritis? I'm not suggesting this shift in language will make arthritis or diabetes disappear. What I'm suggesting is, if you refer to it "In the past" and remove the ownership, you may find your situation more palatable. Better yet, if there is a way your mind can help you ease or put this disease behind you, this new language will facilitate the process.
Back to "It happened to me." The bumper sticker "Shit Happens" was not one of my favorites but it gave us a potent snapshot of reality. The car crash didn't happen to you, it just happened. You just happened to be involved in the happening. The wind and rain on your wedding day didn't happen to you, it just happened.
This phrasing "It happened" will not make the event go away or change it in any way. What it will do is keep its residual anguish from hanging around for an eternal stay.
We add to our pain when we continue to add "To me" to an event or situation. "To me" dramatizes and elongates our situation and the pain lingers on. It will be there long enough without us adding to its residency by adding "To me."
I am not trivializing the severity of a happening, just pointing out a way forward when we get locked into the past.
It takes practice and courage to drop "My" or "To me" from our conditioned phrase library, and the effort will bring you more personal comfort.
All the best,
John
RELAX IN 2 MINUTES
I LOVE MY BODY
Be Sociable, Share!
Comments Off

on The Pain of Personalization