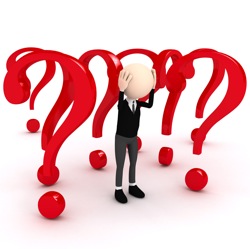 Back in my radio days, we used to have a feature called "Battle of the Bands." We would play two songs and ask you to call in and vote for which one you liked better. Then the winner of that round would compete against another song. After several rounds, we would declare the song left standing as the winner.
There are two competing ideas out there now and the one with the better PR is winning peoples' minds but not their hearts. The ongoing battle is between "You are what you think" and "Your thinking is not who you are."
The one that has won over peoples' minds is "You are what you think." The problem is that your heart is not happy with that choice. Yes, you've given it lip service but in your heart you know differently.
There is a compelling argument for the "think" crowd and this is it: You are if you think you are. "If you think you can't, you can't" is a popular placard at the "Think" parade.
The hole that can easily be poked in that argument is this: "If you think you can't, you can't – until you stop thinking about it."
When you interrupt the thinking of whether you can or can't, your heart gets a say as to whether you will.
Thinking will keep you arguing for your point and suspend action on any endeavor.
We have been conditioned to think things over. That means we have been conditioned to delay moving forward.
If you examine decisions you have made, you will discover that there is a part of you that makes decisions independent of your thinking. Let's call it your heart. We have been brainwashed that our ritual of thinking is responsible for our decisions. Thinking and deciding are two different trains running on independent tracks.
Here's a BIG secret: Thinking won't affect your deciding, but what you decide will affect your thinking. You'll finally be struck with the thought that your thinking is a side show that diverts your attention away from deciding.
You may have to be weaned away from thinking things over, so here's a strategy: Set aside X amount of minutes dedicated to thinking things over. When the buzzer goes off, off comes your thinking cap. Then go do something that requires all your attention. (cutting onions with a very sharp knife comes to mind for me).
When your attention is dedicated to something other than your thinking, your heart can do its work and set the decision machine in motion.
"Thinking leads to deciding" is a superstition that's no different than the schoolyard refrain: "if you step on a crack, you'll break your mother's back."
You may have thought yourself into the idea that you are what you think, but notice there is a part of you that's totally uncomfortable with that notion. It intuitively knows that your thinking is masquerading as you and has nothing to do with what you decide to do.
All the best,
John
VIRTUAL MASSAGE
Be Sociable, Share!
Comments Off

on Thinking vs. Deciding