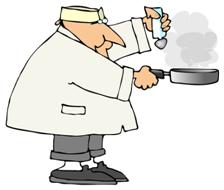 Do you wake up with the same thoughts each day? You're not alone.
It's your own personal "Groundhog Day" – The same thoughts leading to the same actions.
Some motivational gurus got us to buy into the notion that if you change your thoughts, you'll change your life. That statement is accurate, but the method we use to change our thoughts keeps the same thoughts in place.
The premise of the "Change your thoughts, change your life" approach is that all we have to do is get rid of our current thoughts and replace them with more productive ones. We are to do this with positive thinking and affirmations like, "I will only think positive thoughts."
Where that strategy falls apart is when we finally notice that we have no control whatsoever as to the thoughts that pop into or out of our head. We have been taught by our positive thinking training to just replace that smelly thought with a flowery one. That never works!
So how do we change our thoughts, change our life?
Noticing our thoughts is a start. Rather than condemning them and looking to perform surgery on them, it would be wise to just put them under observation and watch them heal on their own.
A morning practice might be to just notice that "I'm waking up with the same thoughts I had yesterday." This is enough of a practice to get some new thoughts moving in.
The next step to change your thoughts is to slightly alter your physical routine. You may notice that your daily rituals are anything but varied. We are boring creatures of habit. My experience is that this sameness of activity has a correlating effect on our thoughts – Same activities, same thoughts.
When you adjust what you do with your body, it has a corresponding effect on your thoughts. It doesn't have to be a major change, just an adjustment or two on a regular basis. For example, you may have a sequence of doing things upon awakening. Vary the sequence and see what happens. If you pee first, pee second. Vary your physical routine regularly and you'll start to notice a new variety of thoughts.
One thing I have learned from personal and professional experience is that subtlety is the friend of change. The temptation is to "Go BIG"; that's usually a big flop.
If you are tired of waking up the same, put a little change into your game. After all, it's no accident this adage has hung around so long: "Variety is the spice of life."
All the best,
John
JOHN MORGAN COACHING
ACCOMPLISH ANYTHING
LOSE WEIGHT & KEEP IT OFF
STOP SMOKING FOREVER
SLEEP THROUGH THE NIGHT EVERY NIGHT
IMPROVE YOUR SELF CONFIDENCE
I LOVE MY BODY
RELAX IN 2 MINUTES
FEEL FOREVER YOUNG
VIRTUAL MASSAGE
Be Sociable, Share!